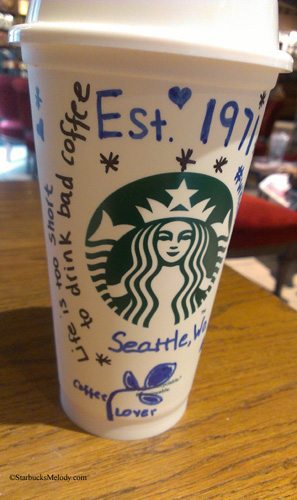 Get Out Your Sharpies! The Starbucks #WhiteCupContest is here.
Melody, April 28, 2014
10
2 min

read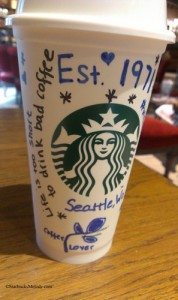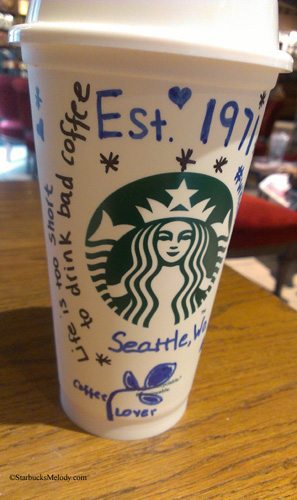 Get out your Sharpies all you aspiring artists! The Starbucks #WhiteCupContest is here. The deadline to enter is May 12th. All you have to do is decorate a Starbucks cup. You enter the contest using either Twitter or Instagram and make sure you use the hashtag #WhiteCupContest. There are a number of rules. Before you send out your tweet, be sure that you're following all the rules!
You don't have to use Sharpies to decorate your cup. It's just what I grabbed to do mine.
Some of the things you'll want to think about: If using Twitter, be sure that you do not have a locked Twitter profile. (That's the kind where you're tweets are not shown without you pre-approving your followers). You must be following Starbucks on Twitter and continue to do so for six months after your tweet. You may not be a Starbucks partner. You must live in the United States or Canada (except that Quebec residents are not eligible to enter). Once again, the entry deadline is May 12, 2014. Be aware, I have only highlighted some important rules. Be sure to thoroughly review the terms and conditions.
The grand prize winner gets a $300 Starbucks card and his or her decorated cup made into a permanent cup.
The official Starbucks blog article on the White Cup Contest is here.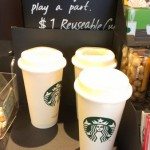 Of course, you can use any standard white Starbucks cup, but you may want to consider buying one of the one dollar reusable cups for your entry. That's definitely not required, but I found it to be a little easier to work with. You will find the one dollar plastic reusable cups at the front register of your neighborhood company-operated Starbucks location.
Go for it! I'm looking forward to seeing all the fantastic art! You can view entries on the official Starbucks Pinterest page.
Related posts