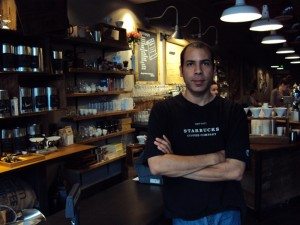 I caught up with Winter at 15th Avenue Coffee and Tea today who was passing through Seattle to visit 15th Avenue Coffee and Tea, and then heading up to Canada.  He's an intense goal-driven person with a sense of humor, and kind personality.  He has been pursuing a goal of visiting every company-operated Starbucks for the past twelve years, and you can follow his adventures on his website.  He's just come from a trip to Chile, and we talked about the music being very Beatles-focused right now, and he noticed "Even in Chile they had the Beatles".
We had a casual conversation with him enjoying a "pour over" cup of coffee and so here are some short excerpts:  (By the way he liked the Pour Over saying "it's better than drip").
Melody:            Has your opinion of Starbucks changed with your 12 years of experience?
Winter:            Regrettably, yes, for the negative.  I have had so many negative interactions with Starbucks baristas that I just don't feel the same joy about Starbucks that I did in 1995, 1996, 1997 …I just see them making mistakes and trying to correct the mistakes but making more mistakes.
Melody:            Since you travel all over the place you must encounter test products all the time.  Do you notice those things? Do you make note of them?
Winter:            Yeah of course.  I like to try them – like the Sorbetto in southern California. That was great.  I liked it. The shaken double shot with cream like the canned product but  actually fresh where they pour the espresso shots and shake them with cream and sugar.  I saw it in Nashville. I remember the Chantico when it was called Chocofino; I had it in the Chicago market.
Melody:            What is your favorite overseas beverage that you've had? I've heard they have a lot of totally different beverages.
Winter:            The orange juice.
Melody.           The orange juice?
Winter:            Because they have fresh squeezed orange juice at a lot of the overseas stores : France, Spain, Mexico, Greece, Turkey … Actual orange juice squeezed from oranges.
Melody:            Do you visit other sites in the city when you go somewhere besides visiting Starbucks?
Winter:            I am not big on tourist attractions.  I try to get to museums and anything else that attracts me…. I went to the Tate Modern.  I went to the National Portrait Gallery.  I went to some photography museums …
Melody:            So what's your usual drink, when you're at home in Texas?
Winter:            Just regular drip coffee.
Melody:            Do you drink Pike Place Roast?
Winter:            I do drink Pike Place Roast … If they have Verona or Columbia, I'll try that.
Melody:            Did you make it to all the stores closing?
Winter:            I missed the store in Hillsborough, Oregon. That was very …
Melody:            …tragic…
Winter:            Actually it was …
Melody:            You don't follow anyone back on twitter, why is that?
Winter:            Time.
Melody:            How much longer before you're done with all of this? Seeing all the stores?
Winter:            I'm never going to be done.  After this trip I will have reached a state where I won't be doing as much traveling around North America anymore because they won't be opening as many stores.
After meeting with him and reviewing the conversation, I realized that I talked over him too much, and I'd make a lousy reporter. Some other interesting things I learned about him is that he likes the symphony, and that he competitively plays Scrabble and has been ranked in the top 30 Scrabble players in North America.  Thank you Winter for meeting with me! Great fun catching up with Winter over coffee at 15th Ave. Coffee!
While at 15th Avenue Coffee and Tea, I snapped a few pictures inside the store just for fun:
Related posts