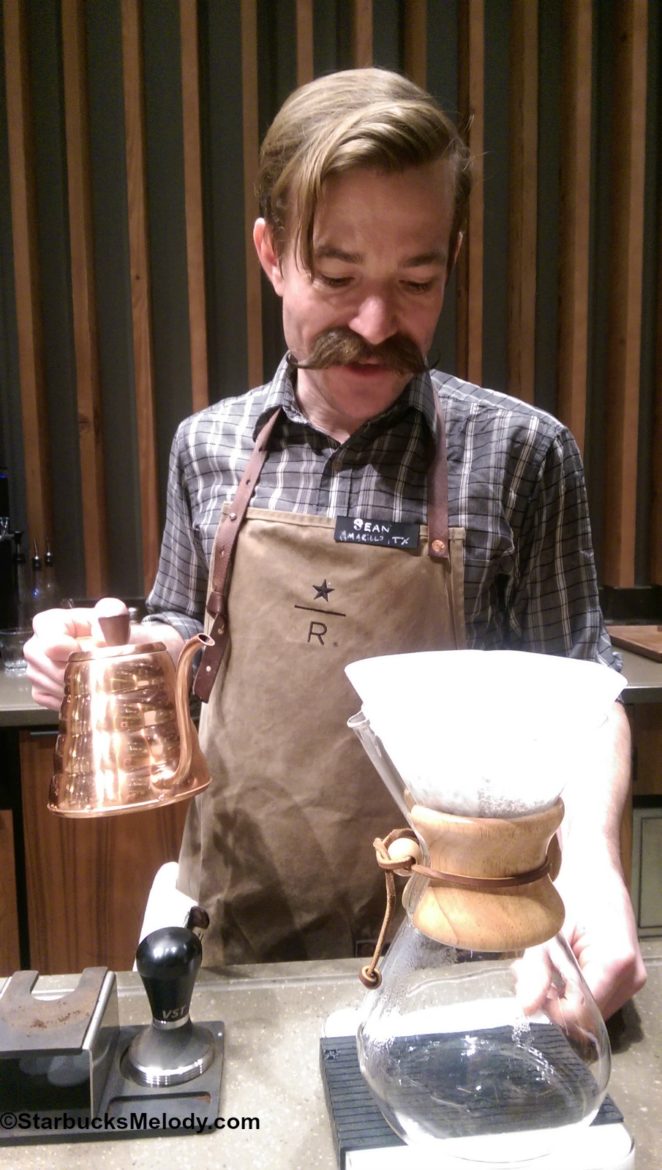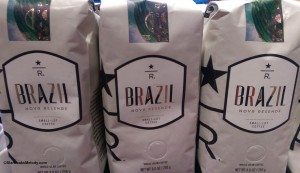 On the Thursday the 12th of February, on my way into work, I stopped by the Starbucks Reserve Roastery and Tasting Room. Partner James O., stood near the entrance, sampling Brazil Nova Resende Reserve coffee from a French press. Before I got in line to get coffee and breakfast, I stopped to chat with him about the coffee. James is one of many partners whom I knew before he was a Roastery partner. A number of partners transferred from area stores, which I would often visit. We discussed what's the perfect brew method to bring out the best in the Brazil Nova Resende, and James said, "Melody you should try it from the Chemex. Come back when the Experience Bar is open and get a Chemex of this coffee."
The Experience Bar is the slow coffee bar area of the Roastery. It's a separate station at the far west edge of the store. You can get coffee via a siphon pot, Chemex, Clover, or as a shot of espresso via the mod bar. In many ways, it gives anyone the opportunity to sit down, get comfy, and have their own special one-on one-coffee tasting. It's a place of coffee education opportunity.
That same day, after work, I made a point of stopping by the Roastery on my way home. I headed straight for the Experience Bar, and at about 6:30 PM, sat down and ordered a Chemex of Brazil Nova Resende. Partners Sean S. and Mark L. were working the Experience Bar so we turned it into a a coffee tasting for the three of us. To be clear, this is an opportunity for anyone who visits the Roastery: you don't have to be StarbucksMelody to have a fabulous impromptu coffee education moment at the Roastery! 😉
This Brazil coffee is very interesting. It's a natural processed coffee, creating a much heavier, bolder flavor than a typical Latin America coffee. It reminds me of a dark, Indonesian coffee,much bolder and richer than a typical Reserve. I think it could even be a bit polarizing as a coffee: either you'll like it or you won't. From the Chemex, the bolder notes were dialed down several notches, and it had even a slight sparkle to its finish. I think this is a difficult coffee to describe!
When you are making a Chemex (or any pour over) when the coffee seemingly bubbles as your pour in the hot water, that is called the "bloom" of the coffee. The fresher the coffee, the more pronounced the bloom. I tried to capture the bloom in one of the photos below.
By the way, I tweeted the photo of Sean making the Chemex, and got back a quick reply to me that was "If that moustache doesn't say coffee, I don't know what does." Truth! 😉
Some people could be reading this and wishing that they were closer to the Roastery. Starbucks has talked about opening roughly 100 "super premium" Reserve stores. They won't have roasting operations or the vast size of the Roastery, but you will find an elevated coffee experience and greater opportunity to connect over coffee. I've heard numerous people say that the first of these is opening quite soon in San Francisco – if anyone has details let me know. I think I'm due for a trip to San Francisco! And if you can make it to Seattle, I hope to see you there at the Roastery. If you find me there, come up and say hello!
Without further delay, here's Sean and the experience of tasting Brazil Nova Resende with him.
Related posts