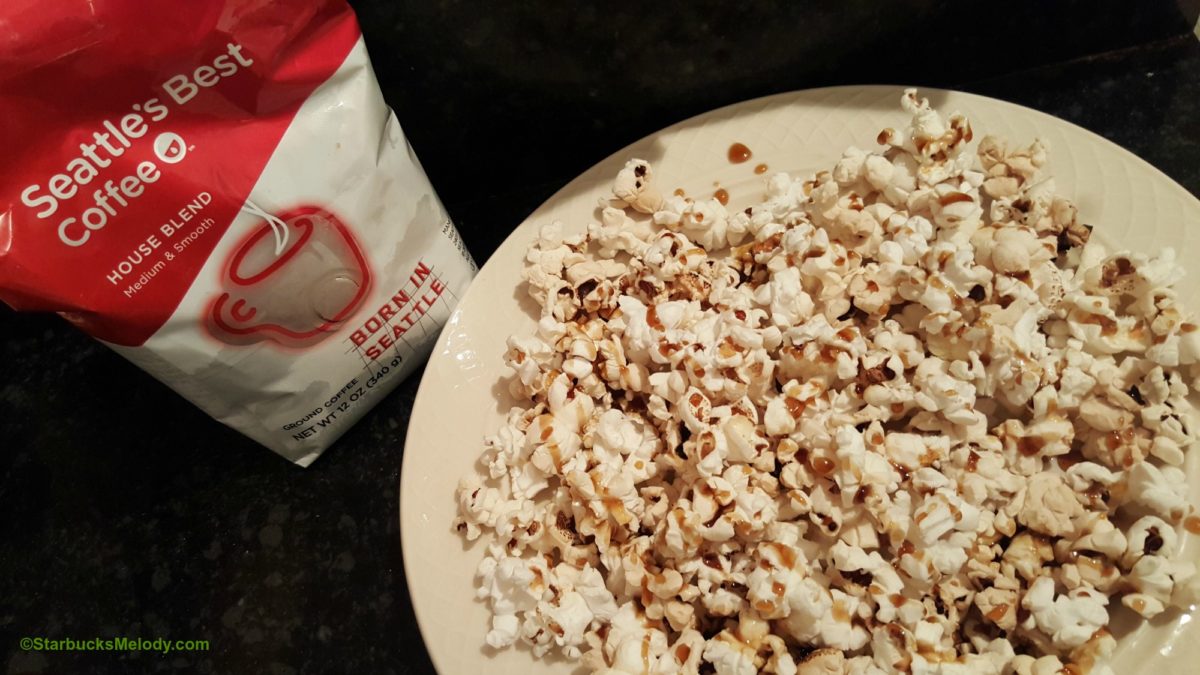 Seattle's Best Coffee Caramel Drizzle: Kitchen Fun.
Melody, January 31, 2016
2
3 min

read
I saw a recipe on the official Seattle's Best Coffee blog that I wanted to try.  Basically, you're making a coffee-caramel drizzle using Seattle's Best Coffee House Blend coffee.
The recipe uses this drizzle on popcorn, but honestly, I think it would be amazing on ice cream, on a cupcake, or any frosting, and a number of other uses.
First thing I did was gather up the ingredients that I'd need: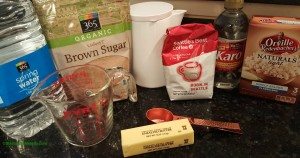 I decided that I would use the Sowden Softbrew method of brewing coffee to make the Seattle's Best Coffee for the recipe. Be sure to follow the four fundamentals of a great cup of coffee, which are recapped in the Sowden Softbrew article. One beautiful thing about using a Sowden Softbrew brewer is that you don't have to be finicky about the grind. The grind of the coffee is, of course, one of the four fundamentals of a great cup of coffee, but you don't have to be precise with a Sowden Softbrew brewer because of its unique proprietary mesh metal filter.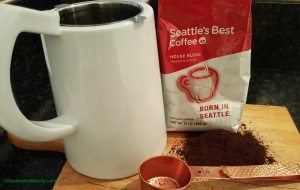 The easy part of this process was making the coffee. That I can do: I know how to brew coffee. Of course I made a little extra so that I'd be drinking the coffee as I worked on the caramel-coffee drizzle. This was a medium-bodied, medium acidity, almost nutty cup of coffee to me. I definitely enjoyed drinking the coffee! (The coffee mug shown is, in fact, an old Seattle's Best Coffee mug which I bought at a Seattle's Best store eons ago, back when there used to be Seattle's Best Coffee stores.)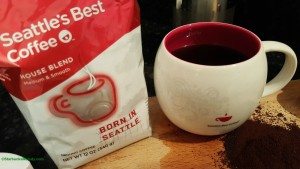 You can ignore the wooden cutting board. I just wanted the coffee to show up in the photo (contrast) and so I used my cutting board as a platform and to make the ground Seattle's Best House Blend coffee stand out. By the way, this is a pre-ground coffee, which you'll find at your local grocery store.
The creator of this recipe is Courtney from the blog Pizzazzerie.
So I scoped out the recipe on the Seattle's Best Coffee blog:
I did the best I could to recreate the drizzle. To be honest, I'm NOT very talented in a kitchen. I can brew coffee or tea, but beyond that I can't create anything too difficult in a kitchen. I really loved the flavor of the drizzle. In my humble opinion, it is very very easy to put too much of it on the popcorn and end up with soggy popcorn. You only need a little bit. I would love to see this drizzle on cookies, cakes, cupcakes, and ice cream. It would be amazing.
After giving this a whirl, I considered that it might be possible to make a very similar drizzle (or more intensely-coffee flavored version) using Italian Roast Via, Gold Coast Blend, or other dark roast coffee. A Via Instant version might produce a more dense drizzle since you're not adding more liquid to the recipe, rather just adding power. I don't know, and I'm not particularly great at creating anything in a kitchen, so my advice is just to follow the recipe as written!
Here's the final product: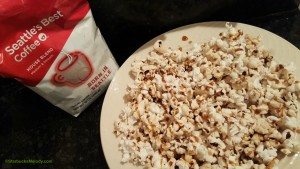 If you try this, let me know!
Related posts