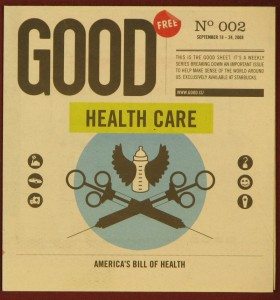 Remember GOOD sheets at Starbucks?  Before I talk about the GOOD Sheets, I have talk about the background story to them.  The background story to Starbucks launching them is as follows:
In March 2008, Starbucks launched My Starbucks Idea.  I wrote a previous blog entry talking about some of the problems that My Starbucks Idea has had. One distinct past problem (long since fixed) was that when someone signed into MyStarbucksIdea.com, he or she would be directed to "top all time" ideas.  This was the design and programing of My Starbucks Idea for at least about the first seven or eight months of its existence.
The problem with this, though not inherently obvious, is that the "top all time ideas" page is, even today, the most stagnant My Starbucks Idea page.  As a result, people would log in, and consistently see a thread called "Great Conversations at Starbucks."  In addition, this thread is incredibly innocuous and not prone to controversy.  Easy to vote up "Great Conversations."  Even today, as I write this, Great Conversations is still the top all-time My Starbucks Idea thread.  During this era where "top all time ideas" was the default landing page for My Starbucks Idea participants as they logged in, there was no way to vote a thread down.  What this added up to was that "Great Conversations" sat at the top of the heap, easily gathering a lot of points.  It's probably the best example that I can think of to say that point totals does not necessarily correlate with what people really value at Starbucks.
Nonetheless, based on the great success of "Great Conversations" Starbucks launched GOOD sheets in their stores to inspire conversations.  I do not remember the total number of issues published.  I stopped picking them up towards their end.  GOOD sheets were free, and generally located near the beverage pick up area of the bar, as I recall.  The GOOD sheets came, and went, never to be heard of again.  Does anyone else here remember them?
As I look back on the issues touched upon in GOOD sheets, no doubt that nearly a year to a year and a half later, these topics are still very relevant conversation points.  Definitely health care has not faded away as hot topic since the September 2008 GOOD sheets.  In hindsight, I liked the GOOD sheets. Though I never sparked conversation with strangers about gasoline prices, they always gave me something interesting to read as I waited for a beverage to be made, or even – gasp – a fresh quarter-batch of the bold pick of the day to brew.  I give them two thumbs up.
My Starbucks Idea officially announced the GOOD sheets in their blogs on September 11, 2008.  Here is the link to that announcement:
My Starbucks Idea also posted a related thread asking what kind of conversations people wanted to have at Starbucks:
Following the launch of GOOD sheets, people came on to My Starbucks Idea to both complain that the topics were too highly politicized for Starbucks, and to praise Starbucks for bring great topics into the stores. The response on My Starbucks Idea was definitely a mixed-bag of response, though in my own recollection of the threads, it appeared to me that more people liked GOOD sheets than not.
Once again, thank you to Larry Aldrich of Seattle Custom Framing for his assistance in the photography of the GOOD sheet images.
And now, the real question is, what kind of "Great Conversations" do you want to see at Starbucks?
Related posts