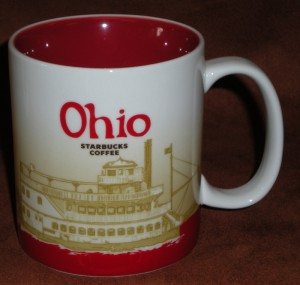 Let me just say that I never went out of my way to try and collect Starbucks city mugs. It just happened.  I have a very small collection of them. Too small to even be called a "collection".  However, I know these mugs are a big deal to many folks and that lots of people collect them. So here is the story of my city mug collection:
**Pike Place Market – I bought this mug at the store at 1912 Pike Place, in Seattle's Pike Place Market.  Because I still like the original store, I thought I should have this mug.  I have found myself visiting this store increasingly less often because close by is another great Starbucks on the corner of First and Pike Street. (Please note that Pike Place and Pike Street are different streets, running opposite directions).  I need to get back to 1912 Pike Place soon. It is still a Starbucks with a La Marzocco espresso machine.  Every drink is handcrafted just for you.
**Boston – Last summer, I took a trip to Boston to visit my sister in that area.  I figured that since I was in Boston, I might as well buy a mug. I grabbed a city mug.
**Portland – In November last year I drove to Tigard, Oregon to do a store review for this blog.  Click here for the store review.  I was just outside of the city of Portland, in Tigard, and figured since I had driven that far, I might as well pick up a mug.
**Vancouver – I was at one of my favorite Starbucks at First and Pike Street in downtown Seattle and I saw this mug.  I had actually made a trip into the store knowing that it would be a wonderful place to take pictures of sparkly donuts because of its beautiful store design, and the store has really lovely for-here ware.  My previous blog episode on the mini sparkle donut is here.  This unique store sometimes receives unusual merchandising because it is dubbed the "heritage" store design, and it is still considered one of the Starbucks showcase design stores.
I was at First and Pike, saw the Vancouver mug and thought, 'where have I seen that bridge before?'  Then I remembered the Via Ready Brew road trip episode with Brad Nelson walking over a suspension bridge in Vancouver, Canada!  I asked a barista about the merchandising and was told their store received a very limited number of exclusive items for Canada because of the Olympics.  If you would like to watch Brad Nelson walk over the Capilano suspension bridge in Vancouver, click here.  For those readers who do not know, Brad Nelson's claim to fame is that he is the official voice of the Starbucks twitter profile.  Who knows, he may be famous for other things, but that I wouldn't know! Notice that in the YouTube video, Brad is using a Starbucks Vancouver city mug to drink his Via Ready Brew.
**Seattle – I bought the Seattle mug at the same time as the Vancouver mug.  I figured why buy just one mug?
**Ohio, Dallas, Houston – All of these mugs were unexpected wonderful surprise gifts to me.  As at times I have given coffee away to people, or connected with other Starbucks enthusiasts through social media, and at times I have been surprised by an unexpected package or gift of a city mug. I'm touched by thoughtfulness of the people around me. You see, this is part of the beauty of Starbucks: It has this odd power to connect people with really big hearts.
For the Ohio mug, I have been told that the boat featured on the mug is this riverboat featured here: http://www.bbriverboats.com/
Anyone else here collecting these mugs, and if so, which is your prize mug?
This is also an open thread. I welcome any Starbucks related conversation in the comments.
Thank you again to Larry of Seattle Custom Framing for his assistance with the photography in this blog entry.
Related posts
153 Comments
Comments are closed.