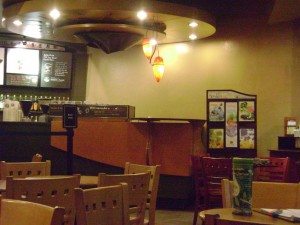 I received an email recently from a loyal Starbucks customer in the Philippines who is also regularly reading this blog.  The customer particularly enjoyed my previous blog entry on the art contest. For those of you who don't remember that, it's here:
Barista art chalkboard art contest: Entries and Winners
The previous chalkboard art blog post inspired the reader to write to me because she was excited to share with me her artwork at her local Starbucks.  I want to point out, she is a customer who regularly draws the chalkboard art in the store! She sent me some pics, and so I want to share her talented creations.  There are a couple of interior store pics attached.  It is worth noting that she is in a store with a La Marzocco espresso machine.  The distinctive espresso bean hoppers seen in the pic give away that the store uses a manual or semi-manual machine (of course it could be another brand espresso machine).  (See photo).
Starbucks Philippines was the third Starbucks market to open outside of North America.  Its first store opened December 4, 1997,  at 6750 Ayala Avenue, Makati City.  The reader who emailed me is very in touch with promotional beverages and coffees are available in the Philippines, and there is no way I can neatly paraphrase this, so I pass on an unedited discussion of promotional items:
They usually have a different "campaign" every quarter, but lately they shortened it to 7-9 weeks. An example of a typical campaign was the Dark Roast Coffee Jelly Campaign, featured last July 22 – September 20, 2009. The featured beverages all had the "new" coffee jelly: Dark Roast Coffee Jelly. The jelly is smoother in taste and a bit amorphous – not like the usual cubed Coffee Jelly. The featured whole bean coffee was Tanzania (sadly not my type, still tastes great). A campaign that everyone looks forward to is the Christmas Campaign. A lot of people flock to the stores because a planner is being given when you purchase the required number of drinks. Like the Bold Coffees in the USA, this is accomplished thru the "stickers." I can send you pictures of the planner if you like. This winter (Jan 06 – Feb 22, 2010), Guatemala Casi Cielo was the featured whole bean coffee, and the featured drink is the Honey Orange Latte and Honey Orange Mocha, which means that Valencia was back (for the meantime only). I was so happy since Valencia is my favorite syrup. The current campaign is Tea discovery, which runs from Feb 23 – April 19. Featured beverages are the Full-Leaf Tea Lattes, and the featured whole bean coffees are Bella Vista F.W. Tres Rios Costa Rica and El Salvador Pacamara (formerly a Black Apron exclusive). For the next campaign (starting on April 20), the featured beverage is Espresso Java Chip Frappuccino (I think). It features a different type of whipped cream: Espresso Whipped Cream. The featured whole bean coffee is Sumatra Mandheling and Sumatra Siborong-borong.
Reading that list of promotional drink and coffee offerings makes me a little jealous.  I may be in Seattle, but occasionally I feel like I'm a step behind what's happening in the international markets. Espresso whip cream sounds so good!
Also, in the Philippines, one can buy Kape Vinta coffee, a blend of beans selected and roasted for this international market only.  Many Starbucks international markets have a special blend of beans to celebrate their own market.  I have previous blog entry about the rare international beans:
Starbucks International Whole Bean – The rare and the exotic
Before I show off the great pics that go with this blog, featuring the reader-created art (beautiful!) and this great store, I notice that this is my 100th blog post at StarbucksMelody.com! Wow! I never thought I would write a hundred blog posts. Seriously, if I had had any clue how much work this site was before I started, don't know that I would have started it at all. But it's fun to do, especially when I click that "publish" or "schedule" button, and hopefully I'll come up with enough ideas for another 100 blog posts – at least I really hope so!  And at 100 posts into this dang blog, I at least hope that a few people are finding this a fun ride. 😉
And now for the reader submitted photographs – Starbucks in the Philippines:
Related posts