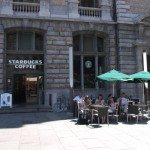 Our journey to visit Starbucks all over the world continues:   Next stop, Antwerp, Belgium:  A reader traveling through Belgium stopped into a Starbucks in Antwerp and took the attached photos.  I dug through the Starbucks Belgium's facebook page and learned that this special store had its grand opening on February 24, 2010, and it is located in the Antwerp Central Train Station.  If you are in Antwerp, the store address is Koningin Astridplein 27, Antwerp, Antwerp 2018.  I would assume that Starbucks wanted to open a new store in a transportation hub, and so this site was selected for that reason.  The person who wrote me said that the store was expensive and he paid the equivalent of $20 for a tumbler, and $10 for a Frappuccino.  He also said that the food selection looked very good, and noticed a nice egg sandwich, and a BLT too.  I can't always write about Seattle, and so it's time for a very short trip to Belgium!  There are over 16,000 Starbucks stores world-wide: This blog is going to try and travel all over the world for store visits! (With the help of my readers – Thank you!).
I dug through You Tube and found this video with footage from some sort of media event the day before the actual grand opening of the new store:
In addition, here are the photos that I received via email. Very beautiful store! Hope you enjoy!
Related posts