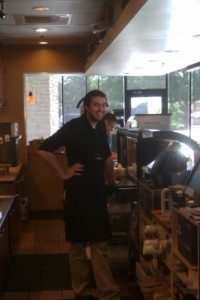 Starbucks is a people job.  The great thing about people people is that they're always smiling (or at least smiling often).  The photo for this blog entry came from my twitter stream. I asked the partner who is featured in it if I could use it and he said yes.  Let's be honest: Starbucks only works when there are great partners making it work.  Partners who have a genuine smile and a passion for the coffee (or at least a passion for the job and an interest in learning about coffee) make my day.  This photo is a perfect example of the kind of thing this blog entry is seeking.
I'd love to see more real people, in honest candid shots of them! I think we could have a fabulous blog entry of nothing but just real people, real partners, real aprons, the real Starbucks.  I need to entice my readers to send me a few photos!  If you're a partner and not working in a store, it's totally fine with me if you want to send a pic too!
Here is the plan:
(1) Send me a photo of yourself – This is not a photo of your best friend or an actress, but a photo of yourself! Don't be shy!
(2) Include your twitter profile name in the email, if you have one.
(3) You must be a Starbucks partner – Of course I have no way to verify if you're really a partner, so I'll have to hope for truthful people emailing me.
(4) Include how you wish to be identified in the blog entry.  Some ideas are that you could be "Melody in Seattle" or "MO in Seattle" or "MelodyLastName in Seattle".  You have to pick something, even if you're so shy you just want to be "M in Seattle".  It's okay if you want to be "MrsTillinghamshackles" or "Enlightened Coffee Sage" or "Darth Sidamo" – assuming you really are that person!!!
(5) Preferably the photo should be of you wearing a green or black apron (or any promotional apron such as (Red) or Via Ready Brew aprons) and set in a Starbucks.  This is not a strict requirement.  If partners above the store level want to send in a picture, that's okay too! Heck, if Howard himself wants to email me, I won't require he throw on a green apron for his pic!  (As I continue to produce this blog, I can only hope that he has a good sense of humor).
(6) Email me before 6:00 p.m., August 28, 2010.  No emails after that time and date will be considered.  My email address is Sbux206@StarbucksMelody.com.
(7) No frowns are allowed.
(8) Include your mailing address if you wish to be included in a drawing for a $5 Starbucks card.
(9) If your photo has you in a green or black apron in a Starbucks (this is preferred), it is expected that you're not going to look wildly out of dress code.  This is not an exercise in the dress code, but I probably won't consider a photo with a barista in a green apron with orange hair, a pink shirt, and a dozen piercings visible.
I don't know how many entries I'm going to get in.  I would guess at most forty people or so? I really have no idea.  I'll buy twenty five-dollar Starbucks cards, and put all the names in a hat of people who entered (following all 9 rules above), and draw out 20 names as gift card winners.  Money doesn't grow on trees, and so if 100 people send me emails (I can't imagine that happening) I can't really afford to send ALL of them a $5 gift card. Out of this experiment in terror, 20 people will receive a $5 gift card.
I'm going to break the ice here with such a GOOFY picture of me. Someone please tell me why I ever thought that I should wear a hat like this. It was a cold winter day when I snapped this photo near a neighborhood Starbucks.  I was dressed for the weather, and looked like a doofus.  All the more reason this photo is a great ice-breaker. If I can share this pic of me, you-all can send me great photos of you in your aprons.
One more thing:  I want to spread the word to many partners about this idea so that I get some real participation.  I am asking readers to share this blog post through facebook, or twitter, or digg, or whatever social media thing that it is that you do.  That would be very appreciated! Please share this!
(Edit on August 3, 2010 – I got a small batch of Starbucks magic coffee stirrer wands that I'm going to try and figure out a way to give out in connection with the photographs. It might be my 15 favorites that get the magic wands. If you don't remember the Starbucks magic wands, go back and read the blog post here and notice that in the comments, everyone loved the green coffee stick!)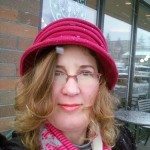 Related posts