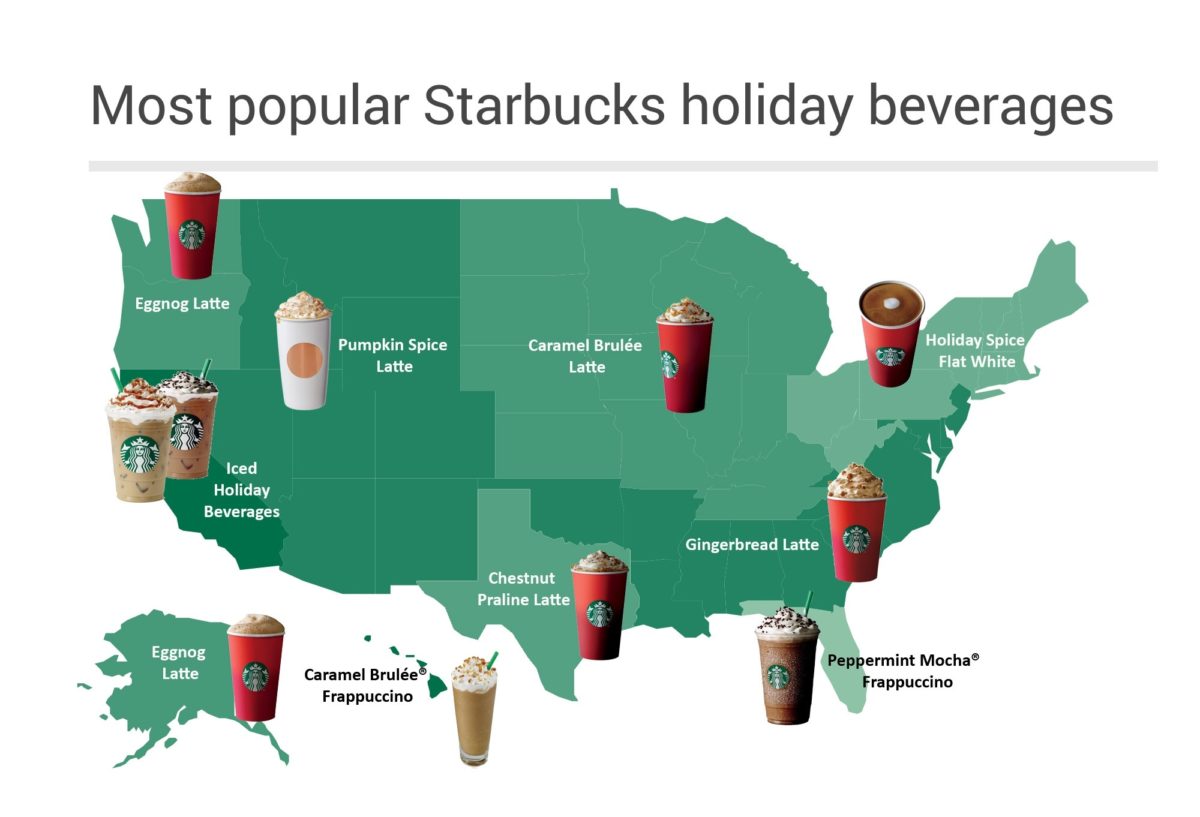 People in the Northeast areas of the United States sure did drink a lot of Holiday Spice Flat Whites! I know that I was a pretty huge fan of it this year, and found myself ordering many Holiday Spice Flat Whites. I hope it comes back next year!
Eggnog Lattes sell the best the Pacific Northwest. While the Starbucks infographic seems to cover Oregon, Washington and Alaska as places that sell a lot of Eggnog Lattes, I've heard it said (in my previous conversations with Starbucks partners) that Vancouver, BC customers love their Eggnog Lattes too. The Eggnog Latte has always been a landmark drink for Starbucks. You can read a little bit about the early history of the Eggnog Latte here – it's been around, every single year, since 1986. The first year it was launched, the Eggnog Latte started in October, but by 1989, it was a mid-November to end of December holiday beverage. (I have an old 1989 Starbucks training manual that references that the drink is every year from mid-November to end of December). Also consider, the Eggnog Latte represents the first time that Starbucks offered any milk other than whole milk! There was no soy, coconut, two-percent milk and nonfat milk at Starbucks in 1986!
The Caramel Brulee Latte began as a new beverage in 2009. Officially, November 17, 2009 is the birthday of the Caramel Brulee Latte. If you're in the midwest, this is a fave drink.
In 2013, the Chestnut Praline Latte was tested against the Cherries Jubilee Mocha. We know who the winner was! November 2014, the Chestnut Praline Latte made its national debut! Texans apparently love this one!
The Western Mountain Region of the United States loves the Pumpkin Spice Latte. Remember this year, the Pumpkin Spice Latte went through a recipe overhaul, and still came out a beloved beverage. We will have to see if more Pumpkin-themed beverages make it to a national launch. This year, the Chicago region was the test market for an alternative pumpkin flavored drink called the "Pumpkin Flat White," not made with the usual Pumpkin Spice sauce.
Hope you enjoyed this look at holiday drinks and some history behind them! Which one was your favorite? Did you ever get to try any of the test holiday drinks that have never gone national? (Cherries Jubilee Mocha and Pumpkin Flat White)
Which was your favorite holiday beverage? That's a lot of holiday drinks! Makes me wonder which ones will return in November 2016!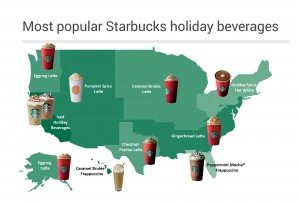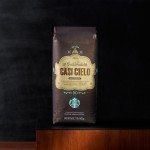 In other news, as of today, you can buy Casi Cielo on StarbucksStore.com! I always love this coffee. You'll see it in Starbucks stores everywhere on January 5, 2016.
Related posts