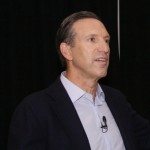 On January 5, 2011, Starbucks revealed their new logo in celebration of their 40th anniversary, and the growth of the brand.  There was an event at the headquarters, and I was in attendance.  I have a previous blog post from that event with a few photos and a description of what happened.  Howard Schultz , CEO of Starbucks, spoke at both the beginning and the ending of the event.  I recorded the last few minutes of Howard Schultz speaking to the crowd, and what is significant about this is his enthusiasm for the future, and sincere gratitude to the 200,000 Starbucks partners that make the experience happen in the stores and everywhere.
I recognize that I could have included this in the event blog post from day before yesterday, but that post was so long that I wanted to start a new post.
Here is the audio recording of Howard Schultz talking during the last few minutes of the January 5, 2011 event at the headquarters:
Howard Speech Short Filtered-05January2011
Toward the end of the event Howard told a story involving the 2008 Olympics where an American swimmer came out of nowhere to win a Gold medal over a French swimmer.  He talked a little bit about what it means to become a winner.  From there, he talked more about the business of Starbucks as a place that one would be proud to work, and how partners are relying on each other.  In all honesty, I didn't record much of the event, sometimes only because of my own failure to hit the record button on the camera I was carrying.  Nonetheless, there is rarely a chance to hear Howard Schultz speak, outside of newscasts or access to Starbucks employee-only sites and materials, and so I thought my readers might enjoy listening to this.  I have transcribed it as well.  (The reason for the transcription is because I know how confusing it can be to listen to an oral presentation not in your native language.  It is much easier to understand a foreign text if you can both read and hear it, rather than relying on hearing it alone. My readership is global.)
"But I feel it is so important to constantly remind us all of how fleeting success and winning can be if we don't continue to operate with the same level of hunger, of passion, of belief, in pursuit of excellence and not settle for mediocrity.  There are literally 200,000 people who in many ways rely collectively on what we do here everyday.  And inversely, we rely on the 200,000 people and everything that goes on outside of this building – on them – to execute a strategy more often than not that we create.  You have built – you have built – an extraordinary company that literally is recognized and respected all over the world.  But as I have said so many times: it is not an entitlement.  We have to earn it.  And we learned the hard way two and half years ago that we have to earn it every day.  So I ask you, more than anything else, to remember the feeling of what it was like when the world had pretty much turned against us and people stopped believing in who we were and who we could be.  Because it was the resilience and the belief in one another, our core purpose, our mission, our values, the quality of our coffee and the experience, and everything we have created over forty years, that we have transformed to be in this place.  I now believe, and this is not something I am just saying, that our best days as a company and as an organization are absolutely in front of us.  The opportunities that are going to avail themselves to the company, and to the individuals who are going to create all this,  it's going to be quite significant.  But those opportunities have to be earned.  And I ask you individually and collectively, as I did in New Orleans, to understand what it means to take the work personally and to be responsible. And when you see something that you know is inconsistent with the quality and the excellence of the heritage of this company, don't be a bystander.  You have a voice.  It doesn't matter who you are in the company and how long you have worked here:  you are a Starbucks partner.  You have a voice.  And we need everyone's commitment, and everyone's voice to continue to succeed at the level we have achieved over the last few years.  And I promise that what I am asking of you, I am asking of myself in the exact same way.  That we will continue to work together to build the kind of company that you and your family will be extremely proud of in the future years to come.  But I guarantee you, the future of Starbucks has significant promise and we are just getting started.  Thank you very much."
Hope you've enjoyed the chance to have another glimpse at the January 5th event!
I owe a big thank you to Kelly of wildsagemarketing.com who did all the hard work to separate audio from video, and edit the file.  Her behind the scenes help on this blog is wonderful.
PS: I debated heavily if I should include this recording on the blog, but ultimately decided since it was a large event with thousands of people present, that it wasn't a "private conversation" within the meaning of Washington State law.  Furthermore, Starbucks was aware of me being there, and aware that I had a camera (recording device) on my person.  If Starbucks disapproves of this blog post, they can contact me, and I will remove it.
Related posts