Starbucks fixes register glitch immediately: Rewards are working
Melody, November 28, 2011
7
1 min

read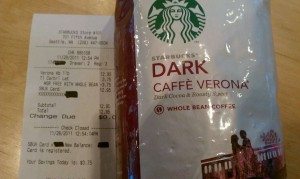 Today I received an email from a contact person at Starbucks, stating that the previous glitch in their registers  – which prevented customers from receiving a free tall beverage with whole bean purchase – has  been fixed.  I have no idea how Starbucks worked so quickly.  I assume that Starbucks had been already alerted by partners that there was a problem, and so likely a fix had been in progress already.
To summarize, Starbucks customers paying for whole bean purchases using a registered card at the "green" level (or higher) automatically receive a free tall beverage of their choice.  The reward is available with both one pound whole bean coffee or half-pound Reserve coffee offerings.
Thank you Starbucks for responding so quickly.  I hope that now everyone is getting their free tall beverage with purchase of whole bean! 🙂
Related posts
Socialize

Subscribe
Join the StarbucksMelody.com mailing list to receive a weekly email with new posts.