Starbucks recently revamped all their whole bean coffee packaging.  The look of the new packages is new and unique, and as I understand it, even the SKU numbers are new.  (I could be wrong about new SKUs.)  One side effect of the new packaging is that a significant MyStarbucksRewards perk has been turned off – this is a glitch in the registers.   Customers no longer receive a free tall beverage with a purchase of a pound of whole bean coffee.
I learned about this glitch in the comment conversation of a previous thread here.  Many thank yous to the partners who commented in that thread, and quickly figured out what the problem was.
In short, when a customer is buying a pound of whole bean, and paying with a registered Starbucks card at the green level or higher, the new packaging (specifically the SKU on the bag of coffee) prevents the customer from receiving a free tall beverage of their choice.  The free beverage perk still works fine with the Reserve™ coffee, as well as the whole bean coffee in the older style packaging.
While I don't think this is a huge issue, I do think that it is something that partners at the registers would want to know about.  I assume that the glitch will be fixed soon.  Nonetheless, I am writing this blog post because I know that there are a number of partners who read this site, and well, if I were a partner, I'd want to know this information.
This article is informational only.  The conversation about a 'free beverage with whole bean coffee purchase perk' is found in this thread:  Up for discussion: Free tall beverage with whole bean purchase.
The first photo shows the new style of coffee packaging.  For the record, when I bought the coffee in the new packaging, the register barista at Fourth and Union Starbucks immediately saw the problem and said, "Let me fix that for you!" and then refunded the beverage to my card.  That store really gets two thumbs up.  And the second photo in this article is of a Reserve™ coffee, and as you can see, the free drink perk still works fine with that coffee.
I hope that I reach a few in-store partners who would want to know this information.  And thank you to DeniseR and CD in the comments who found the problem and called it to my attention.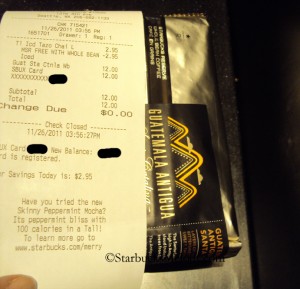 Related posts