And the winner is …
Melody, July 30, 2013
3
1 min

read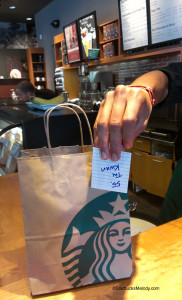 Congrats to the winner of the 1912 Pike Place Starbucks card and mug!  Thank you to everyone who submitted a valid entry in this giveaway.  As always, I put all the names on cards, threw them into a Starbucks bag, and asked a barista to pull one out. Congratulations to The Kwan!  Please email me when you see this.
You can reach me through the "contact" form on this page or by sending an email to Melody at StarbucksMelody dot com.
Related posts
Socialize

Subscribe
Join the StarbucksMelody.com mailing list to receive a weekly email with new posts.