A fantastic new Clover in Newport Beach, California!
Melody, July 31, 2013
4
2 min

read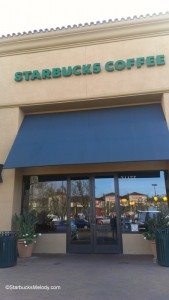 The Newport Coast Starbucks (in Newport Beach, Orange County, California) has a Clover! Its first day of launching the Clover was June 28, 2013, which happened to be the last day of my vacation in California last month.  It was great to drop by the morning of the Clover launch!  It was a busy Starbucks on that Friday morning, so that made it a little more difficult to take photos.  The partners there looked like they were having a lot of fun.
Here's the address:
Starbucks store #14156
21155 Newport Coast Drive
Newport Coast Shopping Center
Newport Coast, CA 92657
Take a look at the candid pic of Brian handing of a drink at the espresso bar! Definitely someone having fun at work!
The balloons in the photo were in celebration of the store having a new Clover. The store design has some unique aspects to it.  The merchandise wall has a unique metal casing around it.  The store's wall art features scenes of people in destination cities around the world, with a Starbucks cup somewhere in each photo.  Take a look at the handles to the store's front doors – they're very ornate!
I wanted to stay until the store emptied out, but I had to get going.  Actually, my next stop from this store was the Lebec, California, Starbucks.  In the front area of the store, there is an area of comfy seating.  It's not really shown in my photos because it was usually occupied by customers.  And, near the Reserve area, there is bar seating too.
Check out this pretty store!  I hope you drop by!
Related posts