Fourteen Starbucks t-shirts tell their stories [Open Thread]
Melody, August 29, 2010
45
4 min

read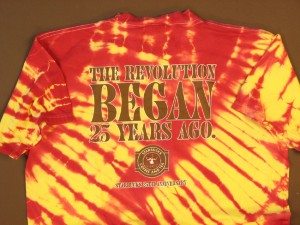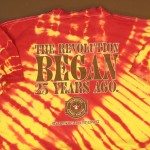 A former Starbucks partner in Maryland recently contacted me and said that she had some old t-shirts she was getting rid of.  She used the "contact" form on this site and said that she had been reading the blog, and wanted to know if I wanted her old t-shirts.  I had no idea what I would be getting, but of course I said "yes."  A few days ago I received the box.  Inside it were numerous Starbucks t-shirts spanning more than a decade of Starbucks history.  It was amazing to look at them.  She had quite a collection.  Two of the t-shirts shown below are my own that I decided to mention and show in this blog post too.
A number of the t-shirt photos demand a little discussion surrounding them: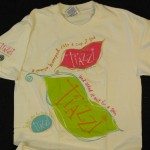 The Tiazzi t-shirt probably dates from somewhere in 2000.  There was a mango citrus Tazo Tiazzi juice beverage offered in the summer of 2000 and so the t-shirt that says, "a mango bumped into a cup of tea" likely dates from that era.  A few years after the Tiazzi juice blends, there was another summer offering of tangerine Tazo blended tea, or a pomegranate blended tea.  They were delicious.  I wouldn't mind seeing them return.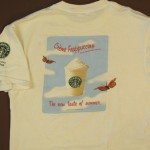 It's hard to believe that the Creme Frappuccino was ever a new item, but indeed it was introduced to the Starbucks beverage line-up in 2002.  The t-shirt announcing its introduction is dated (by the way, I've noticed that Starbucks is often terrible about dating marketing materials of any kind.  It can be really difficult to pick up any old mug, tumbler, marketing item, even old Clover menu and know exactly what era it dates from.)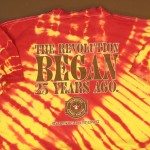 Also there is below a t-shirt for the 25th Anniversary of Starbucks. That's an old t-shirt!  I'm amazed it looks barely worn.  I assume that was a promotional t-shirt in 1996.  I do know that there were a number of promotional items for the 25th Anniversary of Starbucks, because I think the Starbucks at 1912 Pike Place had its own tumbler, and I believe there may have been other tumblers to celebrate this anniversary.  I'm sorry that I don't have an image of the 25th Anniversary 1912 Pike Place tumbler, but I have it somewhere, so I think it exists.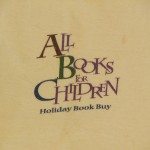 There is a blurry t-shirt photo below, with the words "All Books For Children" on it.  I'm sorry the picture is not clear.  This book drive program is mentioned in the Starbucks 2001 CSR Annual Report.  It's described as follows:
To support our literacy efforts, Starbucks collects books through our annual All Books for Children drive and distributes them to more than 180 literacy organizations across North America. Since 1997, nearly 1.5 million books, including 416,000 in fiscal 2001, have been collected in our stores from partners and community members.
I think that All Books For Children is a program that somehow died, but at one time it was important enough for its own t-shirt.  A promotional t-shirt for an outside Starbucks good cause is a rare thing.  This t-shirt is also a Christmas Blend t-shirt.  To think of this another way, wouldn't it be a surprise if you walked into a Starbucks and saw a partner wearing a Shade Grown Mexico t-shirt with the coffee stamp image on one side, and then Conservation International mentioned on the other?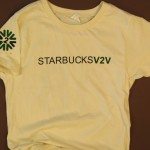 The t-shirt which says Starbucks V2V on the front side did NOT come from the box from the partner in Maryland.  That t-shirt is my own and was given to me as a gift by an SSC partner in 2008.  Starbucks launched a web page in 2008 called V2V.  Unfortunately, the site appears almost totally inactive now, but it was a great idea as a way to connect with others in your own local community to coordinate volunteerism.  One interesting thing about V2V was that it was designed so that every single Starbucks theoretically could have its own store web page.  Sadly, very few partners ever volunteered their time to make the store page a lively place different from the default graphics.  For an example of a V2V store page, click here.  Also, the second t-shirt which came from my own collection is the black one with the word coffee written in numerous languages on the front side of it.  That is a current t-shirt which can be purchased at the Starbucks partner store.
Somewhere, I think I have (or had?) a 2008 Pike Place Roast t-shirt in my collection.  I have no idea where it is now. On my wish list for marketing materials or t-shirts would be Sorbetto stuff.  I am nearly positive that there was a blue Starbucks Sorbetto t-shirt in Southern California where that wonderful delicious treat was launched.  I would give my right arm for any old Sorbetto signage or a Sorbetto t-shirt.  I'm so disappointed that never launched nationally, and never made it out of the testing phase.  There had been a ton of buzz and excitement around it.
This is an open thread, so please feel free to talk about anything Starbucks related in the comments.  Thank you to Molly of Seattle Custom Framing who assisted with the photography.
Related posts