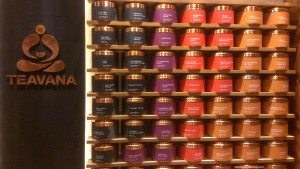 Seattle now has a concept Teavana store, located in the University Village Shopping Center.  The all-new Teavana opened on Tuesday the 19th, and is the second of its kind.  Earlier this year, Starbucks unveiled a Teavana concept store in New York City.  Unlike a typical Teavana store, these new concept stores offer a larger beverage menu, offer an assortment of foods, and have larger spaces with seating.
The evening of the 19th, I had the chance to drop by the new Seattle Teavana bar.  It was fairly late to be dropping by, but still had a steady stream of customers.  I was pretty lucky that I got to meet Naoko Tsunoda, Teavana's director of tea development, before she left.  She has been with Teavana for eight years.  We had a chance to talk, and she described the new Seattle store to me as "warm and inviting" (so true!).  I asked about her favorite tea, and it turns out she is a pretty big Matcha tea fan.  Teavana produces an extremely high grade Matcha, which is slowly ground into a powder from green tea.
One of the first things that I did when I got to the store was to order a sparkling tea.  Starbucks has experimented with sparkling beverages on a number of occasions, and had previously offered sparkling tea in the now-closed Tazo tea store.  I had loved the sparkling iced tea, so had been crossing my fingers that that beverage offering would be carried forward to the Teavana concept store.
I ordered a Sparkling Dragonfruit Devotion tea, which is a lightly carboated herbal infusion of mango, hibiscus, dragonfruit, strawberry and guava.  It was so refreshing!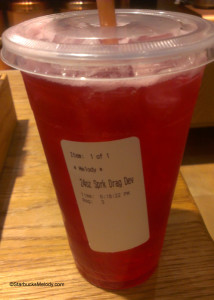 If nothing else, I hope that when you visit this store, you get to try a sparkling tea.  The area has a pretty extensive food and tea beverage bar, where you can order things like a Maharaja Chai Latte, Earl Grey Creme Latte, and more.  This is a glimpse of the food and beverage area:
The merchandise along the walls includes a variety of tea kettles, cups, and tea-related fun things.  The tea is loose leaf tea in bins, weighed out when you buy it.  I have bought the Pineapple Kona Pop tea a number of times and made it iced – delicious.  Also, I recommend the Jade Citrus Mint which a very refreshing lightly minty green tea.  That also makes an amazing iced tea.
There was just so much food to try.  I tried two salads a Raspberry Apricot Cream Scone, and some Poached Pears with Blue Cheese. The Poached Pear Blue Cheese Triangles were the perfect combination of sweet and savory – a must try item as well.  One could really have quite a lunch at Teavana now!
I arrived late (as I mentioned) and it was dark out, so my apologies that my photos are a little dark. Enjoy the rest of the pictures!
Related posts