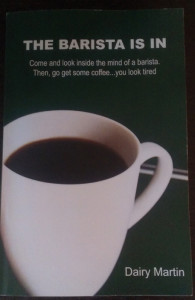 Earlier this year, I got an out-of-the-blue email.  It said, "I published a book called The Barista is In."  I had no idea who Dairy Martin was, and I'd never heard of her book before.  She offered to send me a copy.  I had no idea what to expect!  Of course, I said yes.  I was curious.  And she was offering me a free copy.
I read the book.  It is such a cute book.  It will make you smile and giggle.  It is obviously written by someone who LOVES Starbucks, and knows how to look at everything from the perspective of sunshine and cheer … even in a cold Ohio winter.  The book takes place in 2010-2011 (one can tell this by the mention of significant things like the logo change, and Tribute Blend), and mostly happens in the drive-thru of an Ohio Starbucks.  It's a touching story of how human and personal it is to connect with people.
I will admit, up until recently, I was baffled by what the "drive-thru experience" might be.  For a long while, I had an old car – made in 1993, the electrical was shot in it.  Because of this, the driver's side window didn't roll down.  I was far too embarrassed to actually use the drive-thru because this would mean that I would have to open my driver's side door to be able to pay for a beverage, and actually get the beverage from a barista.  To say nothing of the problems with ordering like this.  So, I simply refused to use the drive-thru.  Then finally, June 2013, a new car came into my life.  Me and my Honda Fit began to use the drive-thru now and then.  Not that often.  And usually only the Elliott Drive Thru Store.  Now I get it.  I can see that there can be a drive-thru Starbucks experience.  It's really quite fun.
So, buy this book.  You'll be charmed by the life of a barista in an Ohio drive-thru Starbucks.  It's an uplifting and sweet book.  And it's a short, easy read.  And please use the Amazon.com widget in the right column of this blog to buy your book. 🙂
(By the way, I am writing my own book about Starbucks. I fear it will not be nearly as happy as The Barista is In which is full of heart-warming, uplifting stories on every page.  Whenever I get my book finished, I will let you know.  Microsoft Word tells me I'm at 22,000 words (it has been through some revisions in some sections already)  And then I have to find a publisher!)
Related posts
Socialize

Subscribe
Join the StarbucksMelody.com mailing list to receive a weekly email with new posts.