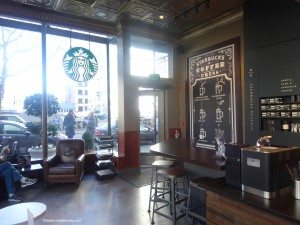 The 11th and Alder Starbucks in downtown Portland has recently become an "Evenings" Starbucks.  For those who don't recall, any store that is an "Evenings" Starbucks offers beer and wine, and has some small plate food options not found in a typical Starbucks.  The official Starbucks information on the Evenings stores, including an online menu, is here.  Most Evenings stores (though not all) are also Clover-Reserve locations.  This Starbucks has both – a Clover coffee brewer, offering Reserve coffee, and all of the Evenings offerings.  (This store officially became an Evenings location in December 2013).
It's a small store but totally adorable.  It's in the lobby of the Governor Hotel in Portland.  (This is not a licensed Starbucks.  I know that some hotels have licensed stores in them, but this is a company-operated location.)
This store is at 614 SW Alder Street, in Portland.  I met Susan, the store manager, who told me that her favorite core coffee is Verona.  She's been a store manager for about two years.  She has a great store!  I ordered the truffle mac and cheese and the core Ethiopia from the Clover (I tried ordering the Yirgacheffe but was told 'no' not available yet – I was one day too early!).
This store has comfy bench seating near a fireplace, and table seating also.  The chalkboard artwork of a French press is stunning: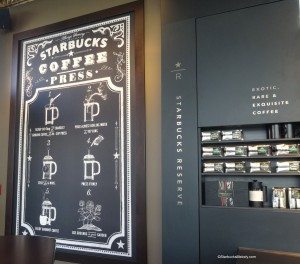 I noticed that this store has rustic mirrors above the menu boards, giving it a spacious feel.  It's a similar store design to what was used in the University Village 3 Starbucks store.  If you're in Portland, I hope you get the chance to drop by the store.  There aren't that many Evenings Starbucks, and Portland only has two in the downtown core – the other downtown Evening Starbucks is the Brewery Blocks location.
Hope you enjoy the rest of the photos!
Related posts