Gold Coast Blend finally returns to Starbucks.  It's been on a hiatus for a while.  The first week of February, you'll find it back in stores, in its all-new packaging: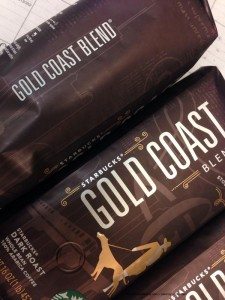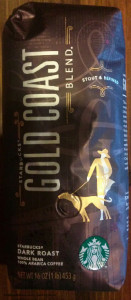 Look for Gold Coast Blend to called out and highlighted in baskets in stores (of course, all starting the first week of February), and available as the daily dark roast drip brew coffee for one week.  Gold Coast is one of the iconic Starbucks blends that many people love.  It briefly was known as Gold Coast Blend in "Morning Joe" packaging, and then disappeared from Starbucks stores, as the coffee's packaging went through a re-design.  In September 2013, Starbucks announced that their "Morning Joe"partnership had come to an end, and the coffee disappeared from stores (temporarily).
From the StarbucksStore.com website, I found this description of Gold Coast:
Starbucks® Gold Coast® Blend
This is a serious cup. Big. Bold. Syrupy, complex and refined. A coffee that means Chicago to us. When we opened our first stores there in 1987, we wanted to introduce a blend that would honor the city, and this is it. Our master coffee blenders brought together the heft of beans from Latin America and Indonesia with a bit of roasty sweetness from our dark Italian Roast. Creating a taste every bit as sophisticated as the neighborhood we named it after. And hearty enough to go up against the famously bitter winters.
And there's a little more:
Gold Coast Blend® is a sophisticated, full-bodied coffee with waves of flavor that evolve as the coffee cools.
Intensely satisfying, it features Latin American and Asia/Pacific coffees accented with a sweet touch of Italian Roast. Because of its great depth and complex taste, this whole bean coffee goes well with a range of food pairings, holding its own alongside flavors such as maple, chocolate, caramel or cheesecake.
I hope you get a chance to pick up a pound of Gold Coast and enjoy it too. I'm totally looking forward to it coming back too.  I hope that East Olive Way picks this coffee for a coffee seminar soon. It is a multi-region, dark, full-bodied, low acidity coffee.
I noticed that if you Google, you can still find a few images of the old Gold Coast Blend packaging on StarbucksStore.com – Here you are – Do you have a favorite?:
Related posts