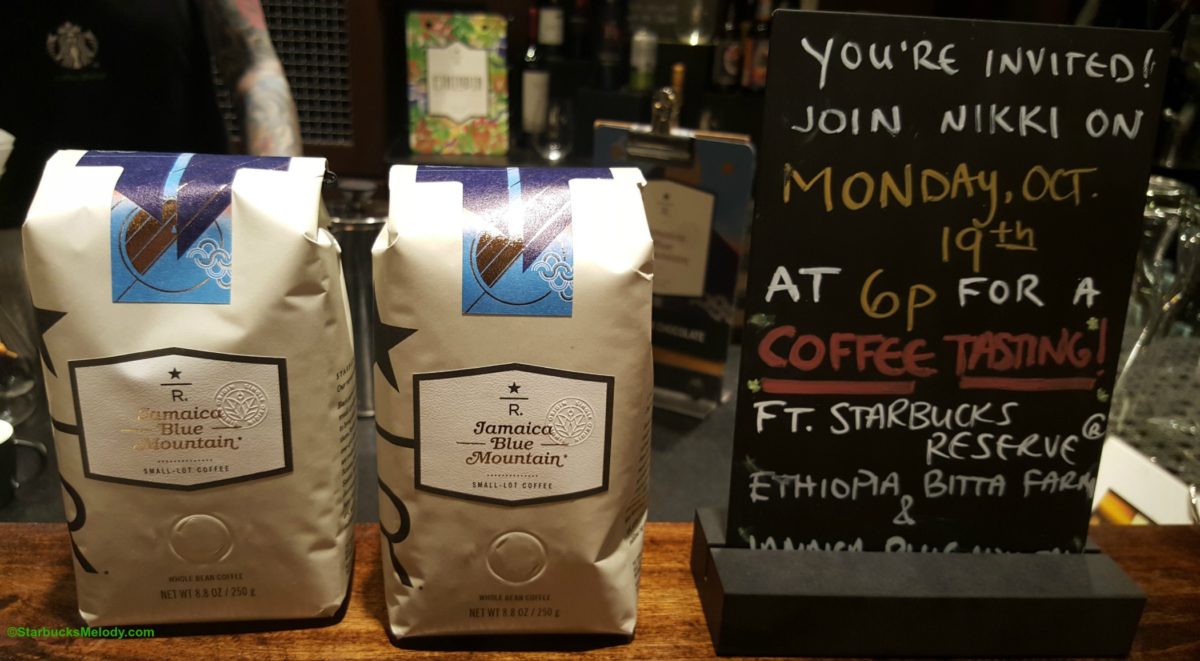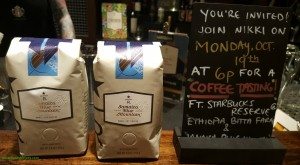 If you ever find yourself in Seattle and you're looking for a coffee seminar, you can find them every other Monday night at 6:00 PM at the East Olive Way Starbucks. Both customers and partners are welcome to attend. The essence of the Starbucks experience is sharing excitement and knowledge around coffee: This particular Starbucks has been offering regular coffee seminars for years! East Olive Way Starbucks is located at 1600 East Olive Way, in Seattle and the phone number is (206) 568 – 5185. Call ahead and confirm the schedule for coffee seminars.
On October 19th, I went to a coffee seminar led by Coffee Master Nikki. Starbucks has introduced Jamaica Blue Mountain coffee into Reserve locations stores everywhere, starting October 20th. This is a great coffee!
Nikki did a comparison of the coffee across three different brew methods: A French press, a Chemex, and the Clover.
From the Clover, we noted that the coffee was the lightest. Jamaica Blue Mountain was crisp, cleaner, and had a cocoa aroma. The taste was juicy, citrus, sweet, and had a nice finish to it.
This year's Jamaica Blue Mountain has a lot of citrus to it. While we didn't do it this coffee seminar, I think it would be fun to pair with fresh oranges.
When you're brewing with a Chemex, be sure to pre-rinse the water first. This is true of any brew method involving a paper filter. On the Chemex, the Jamaica Blue Mountain had a very light body, almost like a black tea. It was brighter, with citrus, floral, and less milk chocolate notes.
On the French press, we noticed that it had a huge body. You can see the oils in a French press when compared with the Clover-brewed coffee. We also noticed that a little more of the roast profile came out in the press. It was citrusy, zesty, with a milk chocolate mouth feel.
Some people don't know that "Blue Mountain" is a varietal of coffee. It's also commonly grown in Haiti and sold as the "Haiti Blue Mountain" coffee. There are lots of coffee varietals such as Longberry, Geisha, and many more.
This week, I was looking around for something and stumbled upon a 2010 Starbucks "Jamaica Blue Mountain" fact sheet. I couldn't believe that I still had it, so well preserved! There's a lot of good information on it. One interesting thing though is that the 2010 Jamaica Blue Mountain fact sheet states that this coffee is shipped in unique wooden barrels. I believe that now this coffee is often shipped in traditional burlap sacks too.
I hope to see you at East Olive Way someday!
Enjoy the photos:
Related posts