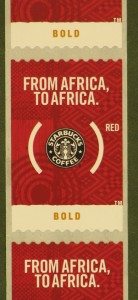 It is estimated that 4,100 men, women, and children, die every day in sub-Sahara Africa from HIV/AIDS.
On Wednesday, October 29, 2008, during Leadership Conference in New Orleans, Starbucks CEO Howard Schultz announced the forging of new and exciting Starbucks relationship: Starbucks and (Red) working together to fight HIV in Africa and across the world.
A year has gone by since that date, and so it is time for the year in review: A look back.
Holiday signature Starbucks drinks, beginning November 27, 2008 through January 2, 2009 were the birthplace of the first of many Starbucks and (Red) partnerships. For each purchase of the signature seasonal holiday drinks (Espresso Truffle, Gingersnap Latte, and Peppermint Mocha Twist), Starbucks donated five cents to the Global Fund to invest in AIDS programs in Africa.  The mystarbucksidea.com blogs also announced this promotion, and of course on December 1, 2008, (the 20th anniversary of World AIDS Day) the promotional offer was extended to ALL beverages, not just the signature beverages. Last but not least, a Starbucks video promoted the holiday (Red) drink campaign:
Starbucks (Red) 2008 holiday drink promotion on You Tube
Next in the list of Starbucks-(Red) partnership innovations came the (Red) Starbucks card.  A registered Starbucks card, with all the benefits of a registered card, and the added largess of a donation of a nickel each time it is used from January 3, 2009 through December 31, 2009.  That mystarbucksidea.com blog post came from Brad Stevens, former vice president of customer relations management, and no longer a part of the Starbucks family. Whatever new adventure you're having Brad, I wish you the best.
March 24, 2009, Starbucks announced that with each sale of the new Bono CD in their stores, they would donate $1.oo to the Global Fund. The March 24, 2009 (Red) update from Starbucks also gave customers a chance to catch up on what progress had been made in getting AIDS/ antiviral medicine to Africa:
"To date Starbucks customers have generated contributions equal to more than 3.7MM daily doses of antiretroviral medicine through the purchase of select (Starbucks)RED products like the (Starbucks)RED Holiday Exclusives and (Starbucks)RED Card.  This equates to providing lifesaving antiretroviral therapy to more than 10,000 people with HIV in Africa for one year."
By summer 2009, Starbucks added even more ways to donate to (Red).  The partnership soon was extended to a line of (Red) promotional items that when purchased, Starbucks donated a $1.00 to the Global Fund.  The promotional products were a tumbler, a CD, and (Red) coffee, a blend of east African whole beans, simply called (Red).

September 2009, Starbucks announced an e-bay auction with proceeds being donated to (Red).  In the end, this ebay auction generated about an additional Starbucks donation of about $7,000 for (Red).
The year is not over! You can still make a difference with your (Red) card and of course you can visit the (Red) website and donate there or find out other corporate partnerships contributing to the Global Fund to fight HIV/AIDS. As of October 23, 2009, Starbucks has funded 6.0MM daily doses of medicine through (Red)! Excellent work Starbucks!!!

Hopefully the partnership with (Red) will be a lasting one!
Be sure to follow (Red) on twitter too: (Red) twitter profile.
[[Edit on 11-7-2009]]
As of November 3, 2009, (Red) extended its partnership with Starbucks to the UK too.  You can read about it here: http://blog.joinred.com/2009/11/starbucks-red-now-available-in-uk.html
[[Edit on 12-7-2009]]
Announced November 23, 2009, on the Starbucks website, the (Red) card contribution continues another year:
"If you love the original (STARBUCKS) RED Card and can't bear to part with it, we have good news for you. We're extending the contribution period on the original card through December 31, 2010."
Related posts