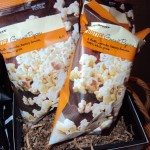 There's popcorn at Starbucks now! Did I miss the flood of customers pounding on the doors of MyStarbucksIdea.com begging for popcorn at their local Starbucks? It never crossed my mind, until I actually saw it in the store, that Starbucks should sell popcorn. Yes.  I really am talking about popcorn. Even stranger, it is Starbucks-branded popcorn.  Did some mad coffee roaster in Kent throw some popcorn kernels in the roasting oven and listen carefully to it popping? I was in total surprise to find popcorn at Starbucks. And even more stunned to realize that the butter popcorn is totally and absolutely addictively delish.
Over the nine months of blogging at StarbucksMelody, we've covered coffee and pastries.  We've talked about 3 Region Blend, Mexico Chiapas, Verona, Sumatra, Christmas Blend, and Casi Cielo.  But now it really is time to talk about the popcorn launched on May 4, 2010.  It comes in two flavors:  (1) Butter and (2) Salt and Pepper .  The butter popcorn is the one that is toe-curling good.  Okay, to be honest, I haven't tried the salt and pepper version because that sounds like an odd combo, and so far, trusted tweeps and real-life green apron friends are giving the salt and pepper version a thumbs down. However, everyone is raving about the butter flavor. It's so good.  It's light, but very buttery, with the right amount of salt flavor, and few kernels at the bottom.  Run, don't walk, and get some popcorn.  I imagine this is a hit if you happen to be at a Starbucks located very close to a movie theater.
I did a quick search on MyStarbucksIdea.com and looked to see if there has been a crowd of people demanding popcorn at Starbucks.  Here's what I found:
Coffee infused chocolate covered popcorn
New snack – already produced and marketed
This delicious new snack is available for $1.25 a bag.  Look for it in the 'snack aisle' of your local Starbucks.
And now for a Public Service Announcement:  Don't forget that healthy gums are pink and stippled. Be sure to brush and floss daily.  Get your teeth cleaned once every six months, or once every three to four months if you have periodontal disease.  Don't miss your regular dental check ups! Popcorn easily gets caught in deep periodontal pockets!  Many a periodontal abscess started with that innocent bag of popcorn.  I wonder if I end up with a gum abscess out of this, can I send Howard the bill? LOL (j/k)
Related posts