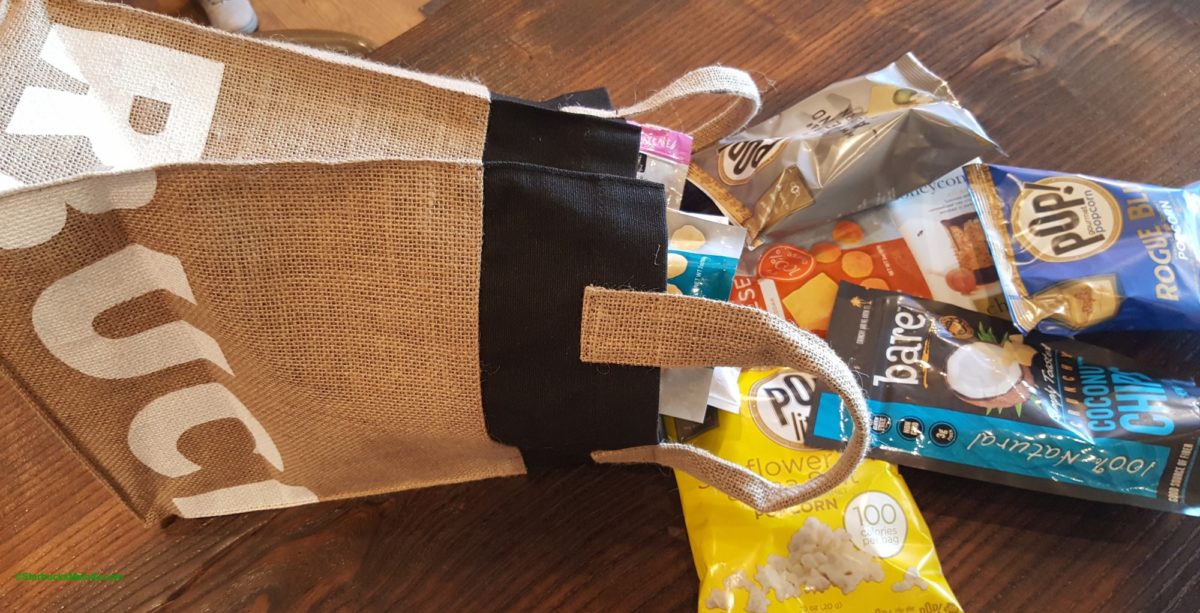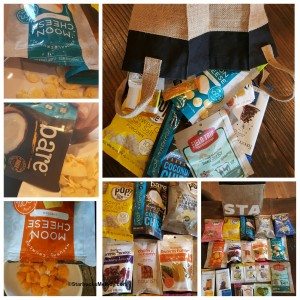 Be on the look out of a collection of delicious snacks and a great burlap Starbucks sack at your local store!
Beginning on July 7th, there will be 3,400 Starbucks locations across the country selling this curated collection of artesian snacks.
Some will surprise you! It's possible you've never heard of some these treats and snacks before. If you're wondering how the 3,400 stores got picked, the stores that will carry the snacks have customers who are more likely to buy these kind of grab-n-go type items. These are limited summer items only. The Pop! brand popcorn won't be replacing the existing popcorn in the stores.
I had the chance to meet up with Erin S. inside the Starbucks headquarters who helped select the snacks and treats. She said they used 13 different suppliers, some of whom are smaller companies. The "Moon Cheese" is a smaller Ferndale, Washington business. The Cheddar Moon Cheese was incredible. It's like extremely fancy Cheetos. I strongly suggest you try this! Another one of my favorite things was the Field Trip beef jerky. It tastes amazing. I've long been a fan of Pop! brand gourmet popcorn, especially the Almond Roca flavor Pop! popcorn, which is included among the snacks you'll find. Some of the snacks, as I mentioned (like the Pop! popcorn) I was already familiar with or had heard of. Before my meeting with Erin to discuss snacks, I'd never heard of Project7 gum. It looks like they're a tiny San Clemente, California business. I asked Erin what her favorite snacks are. She said it was pretty hard to pick, but she really likes the Nourish Chili'n in the Corn'r Citrus-chili roasted corn.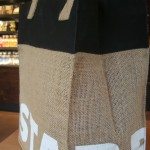 The burlap sack, like the snacks, will only be at the specially-selected 3,400 stores, and the cute burlap sack will retail at $14.95. The Chilin' the Corn citrus-roasted corn retails for $2.45. The bare Coconut Chips will retail for $2.65. The Pop! gourmet Sea Salt pop corn will retail for  $1.55. Look for the gums to be around $1.65. Chuao honeycomb chocolate retails for $5.95. That's a sampling of the snacks, just to give you an idea of the price ranges for these delicious snacks.
All this snack discussion makes me wish I were going on a summer road trip and stocking up on snacks!
I don't have the list of all 3,400 Starbucks stores with the snacks, but I can mention a few stores where you'll find them: Alki Beach Starbuck sin Seattle, the Phinney Ridge Starbucks in Seattle, the Fremont Starbucks in Seattle, the Lodge Starbucks in Bellevue, Washington, PCH & Crown Valley Parkway in Dana Point, California, as well as the Campus & California Starbucks in Irvine, California.
For the aspiring coffee masters reading this, I think that some of these snacks would make for great pairing options. I bet the Moon Cheese would pair beautifully with Sumatra.
I have to say, I loved grazing on snacks as I wrote this. Thank you to the Starbucks partners at the headquarters who invited me in for a sneak snackin' preview. I have to tell you that even though I received a complimentary burlap sack filled with snacks, it didn't affect my review or article.
Have you tried these snacks before? I bet the burlap sack will sell out quickly!
Related posts