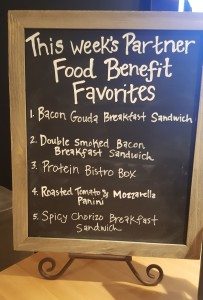 Did you know that Starbucks gives their employees a food perk? When Starbucks partners (Starbucks calls their employees, 'partners') work a shift, they get a food benefit. They get to 'mark out' or essentially get one free thing to eat of their choosing for their shift. All of the free food perks get processed through the register. Starbucks collects data via the registers on all kinds of things related to food, coffee, and drink sales, including what's popular with their partners.
So what are Starbucks baristas 'marking out' and eating the most of? Here are the top 5 Starbucks food items by popularity with partners – this data comes straight from the headquarters!
#1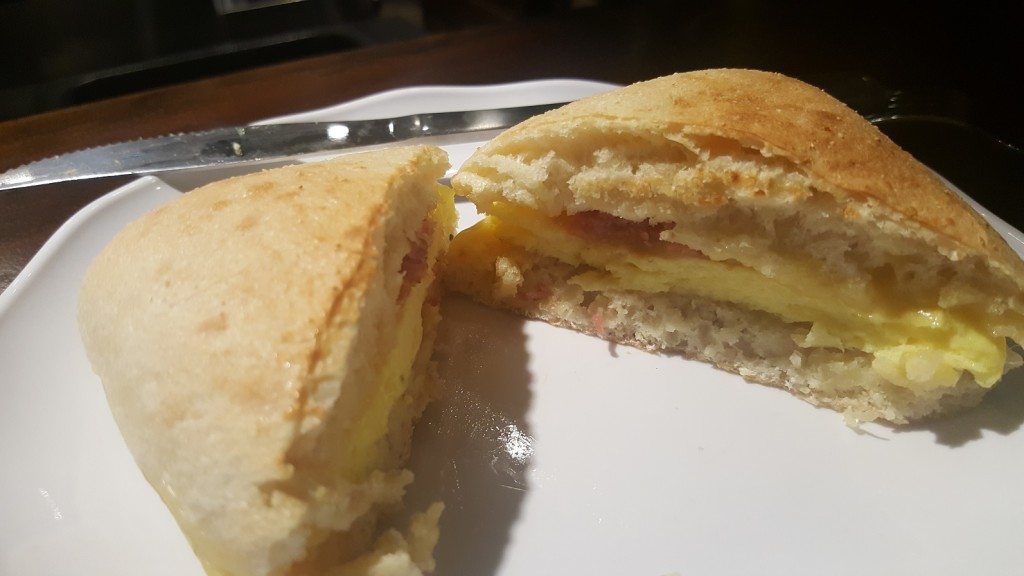 The number one marked out food item by Starbucks baristas is the Bacon Gouda & Egg Breakfast Sandwich. Starbucks describes this as "Sizzling Applewood smoked bacon, melty aged Gouda and a Parmesan frittata are layered on an artisan roll for an extra smokey breakfast goodness."
I took the above pic of the Bacon Gouda & Egg Breakfast Sandwich at the East Olive Way Starbucks in Seattle. I sat down at 8:00 AM to meet up with a friend (who is also a partner) who would show me a few Pokemon Go pointers and tips. I'm no expert at that game. She arrived a moment after me, and sat down with the very same breakfast sandwich on her plate! The partner said that this is top selling breakfast item at her store.
It's delicious. It is a tiny bit salty tasting but the whole sandwich is delicious. It's savory with a soft, delicious bread and it is smoked goodness. It's not my go-to breakfast item, but I thoroughly enjoyed it.
#2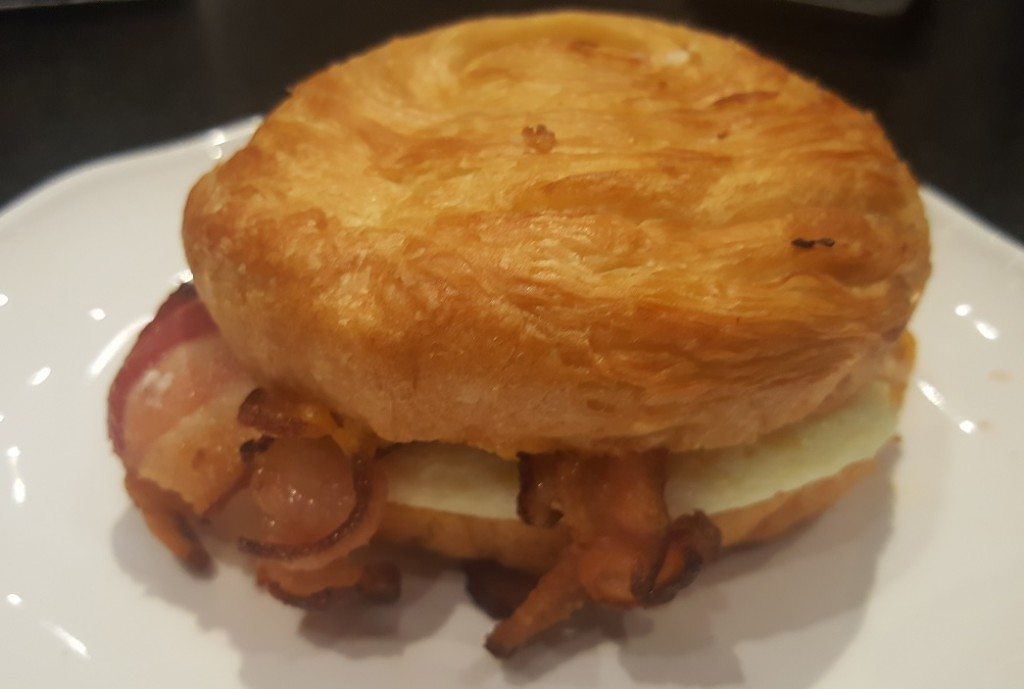 The second most popular food item with partners is the Double-Smoked Bacon, Cheddar and Egg Sandwich. Starbucks describes it as "Thick-cut bacon is slow-smoked for 10 hours over hardwood, then stacked with a fluffy egg patty topped with a creamy melted slice of sharp cheddar cheese on our signature croissant bun."
This thing is very delicious. It's filling though. I only turn to this breakfast sandwich in the mornings if I'm especially hungry.
#3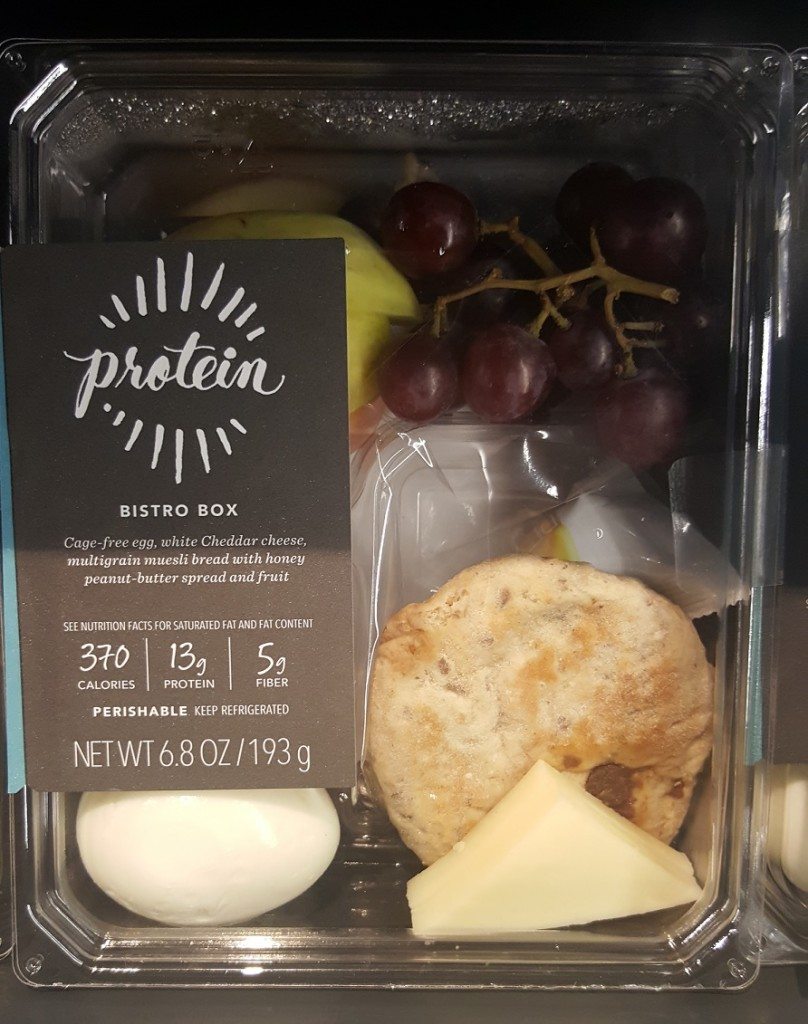 The third most popular food item among your baristas is the Protein Bistro Box. This is in fact my own go-to breakfast item. Over the years, I've eaten a lot of Protein Bistro Boxes. It's pretty healthy, filling, and delicious. You get a couple of slices of apple, grapes, a hard-boiled egg, and small multi-grain roll with Justin's Honey Peanut Butter.
The picture I took here doesn't do it justice. The grapes are easy to snack on while you work. The apple slices and cheddar are delicious. And I love the peanut butter on the multi-grain bread. Inside the bistro box is a tiny packet of salt and pepper for your hard boiled egg. My pro tip for you is to ask for a plastic knife with this one to cut the hard boiled egg.
I enjoy the Justin's Honey Peanut Butter, I started buying it at home for things like carrot sticks and peanut butter.
This comes in plastic. When you're done, be sure to throw the plastic box into your city recyclables bin!
#4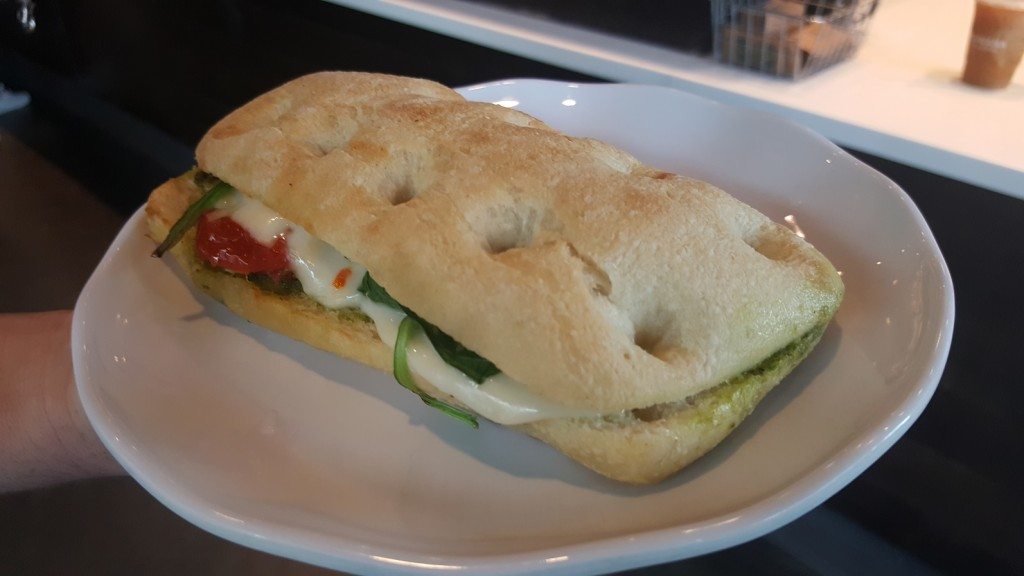 The fourth most popular food item for your baristas to mark out is the Roasted Tomato and Mozzarella Panini.
This is also a delicious one. I've had it many times. It's been around for years at Starbucks. This one is described as "Roasted tomatoes, mozzarella, spinach and basil pesto on toasted focaccia.
I needed a photo of this delicious sandwich. I was at the Starbucks at 505 Union Station in Seattle and noticed a partner ahead of me pick out this panini and head to the register with it. When she was handed it on a plate, I jumped in for a moment and said, "Would you mind if I took a quick picture of your food?" She looked at me and said, "It wouldn't be the strangest thing I've been asked today." I explained that I was writing an article on food at Starbucks, and she easily acquiesced to having her food quickly photographed. I have no idea who she was, and she didn't know me, but she graciously allowed me to snap a photo of her holding her Roasted Tomato and Mozzarella Panini, as she started her break.
#5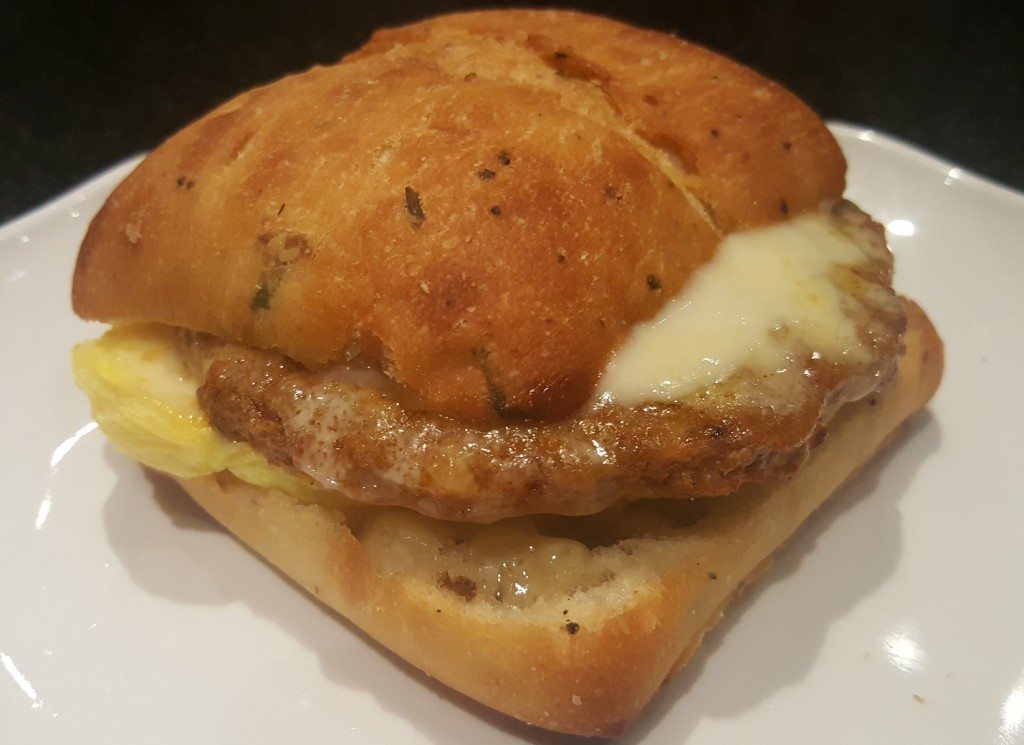 The fifth most popular food item at Starbucks for your baristas to enjoy is the the Spicy Chorizo, Monterey Jack and Egg Breakfast Sandwich.
This is one of the newer entries into the breakfast lineup. Starbucks says this is "spicy chorizo, aged Monterey Jack cheese and a fluffy egg with caramelized onions, all served on a stone-baked potato bread."
The sign above with the list is from the week June 13 – 19, 2016, and it includes all food items including bakery, lunch and breakfast. I was able to confirm this with Erin Shane of Starbucks media relations. I had quite a conversation with her about this list of seemingly ever-popular food mark outs by Starbucks partners. I wanted to look at another week's worth of food mark outs, and so Erin came back to me with the data from the week of July 4th. And to my surprise, she said to me, "it's the exact same."
Now you know the hot food items that your local baristas like to eat.
Maybe you should try them too!
Keep in mind, you can use a Starbucks reward to try any of the above food items too!
Related posts