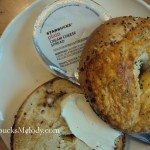 Dear Starbucks, I'd really like a better cream cheese please.
In the mornings, I like running into Starbucks and grabbing a Chonga (cheese, onion, garlic) bagel with cream cheese.  I've enjoyed that for a long time.  Last fall, Starbucks changed the brand of the cream cheese that they offer.  I will say, it seems to be in a slightly larger container than before, but I've never fallen in love with the new cream cheese.  It's just a bit bland.  I'd really like a better cream cheese.
The cream cheese changed about the time that Starbucks posted this official blog post:
http://blogs.starbucks.com/blogs/customer/archive/2011/09/08/bagels-inspired-by-new-york.aspx
In the big scheme of things, it is cream cheese.  Am I going to stop being a Starbucks customer over a small container of cream cheese?  Heavens no. I had the momentary thought that I could start a petition to try and get a better cream cheese, but somehow that seemed just silly.
But I think Starbucks could do better.  The current cream cheese lacks a rich flavor, and has an odd texture.  A long time ago, Starbucks offered Kraft Philadelphia Cream Cheese.  That was a delicious cream cheese.  Since Starbucks ended their marriage with Kraft  (meaning Starbucks sued to end their contractual relationship), we won't be seeing that cream cheese make a come back.
I realize that the issue of the cream cheese is a very tiny detail of a much larger picture of what goes on in the stores.  But they say, "retail is in the detail" and shouldn't a delicious bagel have the best cream cheese possible?
I wondered if anyone else has noticed the cream cheese too?  Am I alone in my cream-cheese-disappointment?  Share this blog post if you want the cream cheese to change!  Maybe we can shine a small spot light on the cream cheese!
Thank you for listening Starbucks!
Yours truly,
Melody
(This is an open thread.  Feel free to talk about anything Starbucks-related.)
Related posts