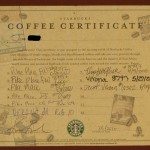 Recently I was visiting my local Starbucks on a late afternoon (July 1, 2010) and in walked a customer holding the certificate that is featured in the image for this blog post.  He walked up to the register and told the register barista that the certificate entitled him to a free pound of coffee.  I was fascinated by the certificate and asked him if I could take a look at it. The store manager oohed and ahhhed over it too.  We weren't really sure what this thing was, or what the story was behind it. I told the customer ("John") that I would gladly buy him a pound of any coffee in the store, even if he wanted a pound of Jamaica Blue Mountain, if I could just have the certificate to feature in my blog.  I explained to John that I produce my own Starbucks blog.  The store manager was very willing to accommodate the customer in his request for a free pound of coffee. But in the end, after much conversation, here's what happened: I wound up with the certificate.  John selected a pound of  Verona (That was his pick.  Who doesn't like Verona?).  The register barista ended up with my registered Starbucks card.
Has anyone seen this certificate before?  What's the story behind it? Was this a regional promotion? John stated that it had belonged to his parents (who I think he said are in Chicago) and they mailed it to him thinking he'd want the free coffee.  I am trying to figure whether someone had to pay a large flat amount upfront for the whole bean coffee tour, or if there is some other story to this document.
It's kind of a cool idea, and a beautiful certificate.  Earlier this year there was a tour of bold coffee passport, but this is obviously not related to that, except that I enjoy seeing any kind of promotions that Starbucks does to create coffee enthusiasm.
Does anyone know the real story behind this cool certificate?
(Thank you Molly at Seattle Custom Framing for your help with the photos for this blog post)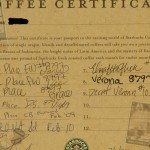 Related posts