The First Starbucks – 1912 Pike Place
Melody, July 15, 2010
100
6 min

read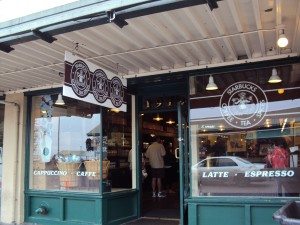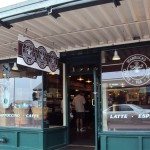 Melody invites you on a trip to the first Starbucks: Imagine it's a Sunday morning at about 7:30 a.m.  You're visiting Seattle and decide to drop by the first Starbucks and beat the crowds.  Pike Place Market is just starting to open and many of the shops are still closed.  Beecher's Cheese is still closed but Piroshky Piroshky, a few doors down from the first Starbucks, is already open.  You grab a freshly-baked cardamom cinnamon braid roll from Piroshky Piroshky.  Mmmm. It's warm, in the high sixties, and you actually found a reasonable parking spot three blocks away because it's still early.  What are you going to find at this special Starbucks? In this blog post, together we're going to go have a delicious hand-crafted beverage at 1912 Pike Place.  Let's go inside and meet the store manager and have a nice quick visit to 1912 Pike Place Starbucks:
*******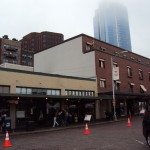 The Market:  You arrive at Starbucks and notice the simple lettering above the door.  The red brick road in front is empty. That's because it is 7:30 on a Sunday morning.  Don't drive down this road.  Don't even try.  If you're a local, you'll know that pretty much you have to park in a lot, or find street parking, and walk a few blocks to the market.  If you're a tourist, you might try driving down this road and find that it's blocked off to cars because of street vendors.  And even if the street is open, you might find that you will move at under 5 miles per hour for a frustrating two or three blocks, and wait even longer to try and negotiate your way through a massive crowd of people filling this street.  Dear tourists, there is almost no such thing as "Doris Day" parking at Pike Place Market.  However be sure to check all the little shops up and down Pike Place and at the Market.  You will find everything from the fish market, to a grocery store called "Pear", to a Seattle's Best Coffee in Post Alley.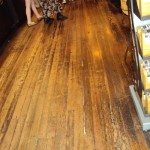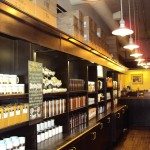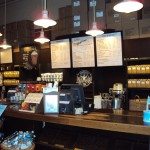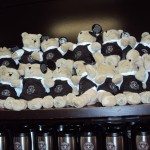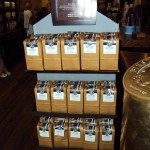 Inside the Store:  You step inside the store.  On the north wall of the store there is a world of special merchandise available only at this Starbucks. (Although in March of 2009, Starbucks started letting the store at 1st and Pike sell some of this merchandise too, but outside of those two stores, there is NO Starbucks selling the limited merchandise made for the Pike Place Starbucks.)  What to choose?  A wall of special Pike Place barista bears is looking for a good home.  You could take home some Pike Place Special Reserve coffee. Pike Place Special Reserve is NOT the same coffee as Pike Place Roast.  The floors look like early 20th century hardwoods that have been trafficked by literally a million feet.  (I assume that at some point the floors have been updated or something, but they're so worn and weathered that definitely those floors have been there for a long long time).  Remember that at this store only, there is a special Starbucks card.  You can see an image of the 1912 Pike Place card here.  (The framed and signed card).
Meet the Store Manager: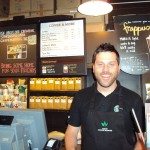 Now once inside the store you meet the store manager and some baristas.  Of course, on this visit to 1912 Pike Place, the store manager immediately greeted me by name and smiled big and said "Hi Melody!".  This store manager (Chad) is a totally nice and wonderful guy.  I am so glad he has this special store.  Chad introduced me to new a barista having recently transferred into his store.  He says, "Hey Melody meet Deb! She transferred here from Snohomish County."  (Obviously none of this is verbatim).  Turns out Deb came from one the stores up north that briefly had Sorbetto in it. Oh how I loved Sorbetto … but I digress.  Chad and I made small talk and I told him that I wanted to show off and feature his store in an upcoming blog post! Chad graciously agreed to a picture of him for the blog.  But don't worry: Chad is this friendly and welcoming to all his customers!  It's a fact, if you're a Starbucks partner at 1912 Pike Place, you will end up in a million photographs!  Chad has had his picture taken many times at this store.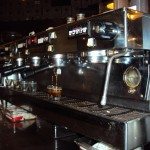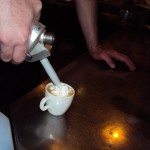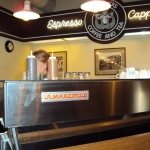 Order a beverage:  The next thing we need to do is order a drink! What are you having? Chad asked me what I was having so I asked for a "doppio con panna".  Chad remembered that I only like this drink in a small porcelain demi-tasse cup.  If this beverage is made in a paper cup, it doesn't taste right to me.  The whip cream will stick to the sides of the paper cup, making it difficult to drink.  The only way to have this beverage is in porcelain.  This is my favorite store for a doppio con panna. Beautifully hand-tamped shots.  Starbucks Espresso Roast.  It's amazing.  There is no other store where I can have this beverage exactly like this.  Even at 15th Avenue Coffee and Tea, or Roy Street Coffee the baristas use a single-origin bean or a different blend for their espresso beverages.  I have heard it said often that a single-origin coffee or a better blend is superior to Starbucks Espresso Roast.  Maybe I have a pedestrian palate, but I genuinely like Espresso Roast, which is not available at 15th Avenue Coffee and Tea.  On this morning, Chad said he needed to check his shots and so he pulled a couple into shot glasses right before making my delicious hand-crafted beverage.  I took a picture of the shots that Chad was carefully watching to get them just right (those were the shots he pulled to 'check them') and also a picture of Chad putting the whip cream on my beverage.  This is the ONLY Starbucks using a La Marzocco machine.  The Espresso Roast is measured out, ground, and hand-tamped for your beverage.  There is no food at this Starbucks, but there is a complete beverage menu including Vivanno smoothies, and Frappuccinos also.
Hope you enjoyed your trip to 1912 Pike Place!
The first ten people who leave a comment on this blog post will receive a free bag of Pike Place Special Reserve (sold in half-pound size only).  The first ten people who use the "tweet this" button and tweet this blog entry will get a $5.00 gift card. But there are some conditions to this flash contest: All participants must be over age eighteen. Participants must have a postal address in the United States, Canada, or the U.K.  Winners (meaning the first 10 who leave blog comments) must email me at Sbux206@StarbucksMelody.com. The email must include legal name, user name at this site, and twitter profile name if applicable, and postal address.  No spam comments permitted, and no links in comments. If you are tweeting this blog post, please put "@SbuxMel" somewhere in your tweet to tag me, so that I can find that you did tweet this blog post.  Write in your comment "I tweeted this blog post too!". Whew! That's a lot of work, but heck, I would do it for a Starbucks card and/or coffee.  Hope you enjoyed this trip to 1912 Pike Place, in Seattle's Pike Place Market.
Related posts