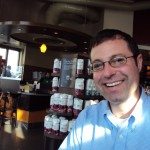 Go into a Starbucks.  Order a French press of coffee. Explore the new Starbucks Digital Network.  I caught up with Adam Brotman today (10-27) to talk about the new Starbucks Digital Network, launched on Wednesday the 20th of October.  It was my first glimpse at the cool content available on the new Starbucks Digital Network.  We drank a French press of Organic Shade Grown Mexico coffee, paired it with banana bread and pumpkin bread, and talked about this new digital network inside a Starbucks.  We met up at a Starbucks close to work, at First and Walker in Seattle's SODO neighborhood.
The new Starbucks Digital Network is available to customers only while they are inside a Starbucks and to get to it, you need to visit http://starbucks.yahoo.com.  I brought my new iPad to the meeting with Mr. Brotman and learned that "AT&T enabled-devices are self-authenticating".   This means that if you walk into a Starbucks using an iPhone or an iPad, you will automatically connect to their digital network, bypassing the landing screen of the Starbucks Digital Network.  If you want to take advantage of the content at the Starbucks Digital Network, you've got to take the simple step of going to the url mentioned above.  Here it is again:  http://starbucks.yahoo.com.
I asked Mr. Brotman if there were any plans to have customer-created content on it, much like a community bulletin board at a Starbucks.  He didn't entirely rule that out, and said that the idea behind this digital content is that much of it IS intended to be hyper-local.  By clicking on the tab which has the name of the Starbucks you're at, you connect with the possibility of a Foursquare login, and there are all kinds of local information such as the temperature outside, and even what's playing inside the store.
I love the idea of being able to see what song is playing. At MyStarbucksIdea.com it is a common customer request that stores add a "now playing" sign inside the stores.  Now, by quickly accessing the Starbucks Digital Network, this information is available.  Essentially the digital ventures team has launched this customer's idea at MyStarbucksIdea.com:
What am I listening to? Get me linked…
Here's another similar idea:
"Now Playing" widget for in-store wifi users
Since I have been at MyStarbucksIdea (since March 2008), I recall seeing numerous threads asking for more music information (about what is 'now play') readily available in the stores.  Please disregard the point totals.  Having been a participant at MyStarbucksIdea since its launch, I can definitely say that down votes don't always really mean that it is a bad idea.  People vote threads up and down for lots of reasons unrelated to the merits of the idea.  The only point during the meeting where I pretty much nagged at Mr. Brotman was when it came to MyStarbucksIdea:  I wanted the link to be bigger, more obvious, and more visible to a Starbucks Digital Network user.  Oh well, we can't have everything we want!
If you are wondering what else you might find at the Starbucks Digital Network, you'll find all kinds of content from music to books to news to you name it.  There is an iTunes down-loadable pick.  A customer can read the Wall Street Journal, the USA Today, or the New York Times.  You can even read a book online, search for a job, or look for restaurants in your area.  The Starbucks Digital Network seems to be a pretty powerful toolbox of fun stuff to do catered right to your location.  There are even some free games for kids to play.
It looks to me like the stores could use a little more signage advertising this treasure chest of content.  The little table signs aren't enough! Here are a few pictures from my meeting with Adam Brotman (and don't forget that you can follow him on twitter.  It's important to know that he IS a coffee drinker, and a Starbucks Coffee Master too! Just click here: Adam Brotman):
Related posts