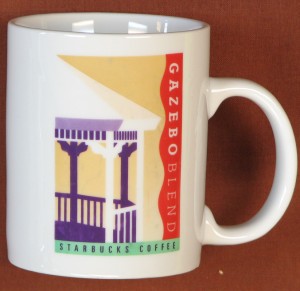 Summer is here. The hot weather means that it is time for some iced coffee.  Here's the recipe for cooling off this summer: you're going to need a big drinking cup, lots of ice, and Gazebo Blend from Starbucks. It is perfect iced!
Gazebo Blend has appeared in the summer line-up every year since 1991.  In the not too distant past, the coffee mug merchandise often reflected the "coffee stamps" that were used on the flavor-lock coffee bags.  I miss the coffee stamps which are now just something of an artifact of an era gone by. For others, like myself, who are nostalgic about the old coffee stamps, this blog post features an old coffee mug with an old coffee stamp design on it from roughly a decade ago.
Here's an interesting piece of trivia: Gazebo Blend is sold in some international markets as "Oceanside Blend".  The flavor of Gazebo Blend can vary from year to year but it's always a selection that includes East African beans with distinctive citrus notes making it perfect iced.  The beans are processed by a "washed" method which helps to produce the clean finish and citrus notes that the coffee is famous for.  Gazebo blend pairs well with blueberries, lemon, raspberries, and other tart fruits.  This year's Starbucks Gazebo Blend is available in both one pound, and half-pound sizes.
But wait! There's more! I don't want my readers just throwing some coffee in a drip brewer and then pouring it over ice! No no no! Please do NOT do this.  Really wonderful iced coffee is NOT simply ordinary drip brew over ice.  Rather, in order to account for the melting ice in the cup, iced coffee should be brewed "double strength".  The ice melting in the cup is diluting the coffee, so the best iced coffee takes this into account.
If you would normally use 2 tablespoons of ground coffee for every six fluid ounces of cold water, double up on the coffee to make your iced coffee at home.  The ratio of 2 table spoons of coffee to about six ounces of water is a normal drip-brewed coffee ratio for coffee that will be consumed hot.  However, use about four ounces of coffee for each six ounces of water to make "double strength" coffee. Brew your coffee, chill it, serve over ice!
If you are reading this, and you are anywhere near a Clover-designated Starbucks, you can easily try Gazebo Blend iced at your local Clover store.  Since your coffee is custom prepared for you at a Clover store, you can order anything you want iced.  If for some reason, you're reading this and find that your local store is out of Gazebo, my second choice would be iced (Red) East African Blend.  I have had that iced many times and it is almost as perfect as Gazebo Blend iced. It's a close second.
Enjoy your iced coffee, and tell me what is your favorite iced coffee (or for that matter, what's your favorite iced summer drink?).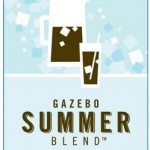 Related posts