Starbucks promotional t-shirts always tell a story
Melody, July 19, 2011
41
5 min

read
Starbucks promotional t-shirts always have a story to tell.  I love seeing all the old promo t-shirts and the new ones, too;  I feel like there are history lessons in every single Starbucks t-shirt.  Last year, I wrote a longer article about more than a dozen promo t-shirts.  Check that out here:
I have collected a few more since then, and so here it goes: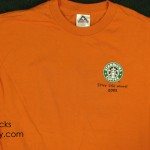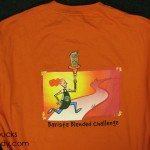 This t-shirt was something I found on ebay.  I saw it and realized that I'd never seen anything like that before, and so I snatched it up.  If anyone knows the story behind this t-shirt, I'd love to hear it.  How did a partner get to wear the t-shirt and what was the "Blended Challenge"?  I'm placing a call out to Starbucks historians to weigh in. Thanks!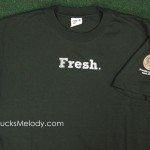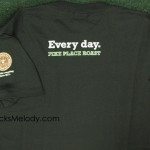 This was the t-shirt that store partners wore on April 8, 2008, Pike Place Roast launch day.  I remember that day really well.  I went to the festivities for the launch of Pike Place Roast that evening at Seattle's Pike Place Market.  They were sampling the new coffee, and distributing freebie small size bags of it.  (If memory serves me correctly, they were giving out free small bags with about one-fourth of a pound of coffee).  Mayor Nickels gave Howard Schultz  (ceo of Starbucks) a certificate proclaiming that April 8, 2008, would be "Pike Place Roast Day" in Seattle.  Howard addressed a large crowd in front of the store.  It was a tremendous amount of festivity for a new coffee.  And while others may love this blend, it is still my least favorite Starbucks coffee ever.  I met Howard Schultz on that day (that was the second time I met him, but I've actually seen him speak in person a number of times in the three years that have flown by since then.)  I recently saw this t-shirt on ebay, and given its momentous history, I had to buy it.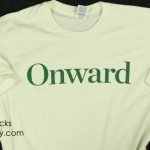 There is a cute story behind this t-shirt.  I received this in March of this year.  I attended the annual meeting of Starbucks shareholders on March 23, 2011, and ultimately wrote a blog post about that meeting here:  Melody's roundup of the Starbucks annual shareholders meeting.  At the meeting, I noticed that the partners (who were working the meeting) were wearing these Onward t-shirts.  At the end of every annual meeting, there is a question and answer period, which in some ways, is a highlight of the meeting.  It's the only free form, spontaneous part of the meeting.  Any shareholder can get up and ask Howard Schultz any question.  The questions are not pre-screened.  I've gotten up and asked questions, and sometimes it's gone better than other times.  I've seen people get up and ask for a job, and people will ask for new products, and a request for Via Ready Brew in a jar is a big request too.  If there is something hot in the news, someone is often bound to ask about hot news topics.  This year, I asked Howard Schultz about his favorite Starbucks partnership over the years:  CARE, (Red), Ethos, Conservation International … there have been so many over the years.  After I asked my question, I quickly threw in "Oh and how can I get an Onward t-shirt?"  There were a few chuckles in the audience, and Howard replied, "We'll get you a t-shirt."  The funniest part was that after my turn was over, the next person launched into his resume, and essentially asked for a job at the SSC, stating that he really wanted to work for Starbucks.  Howard, not missing a beat, said, "Are you sure you wouldn't rather just have a t-shirt?" The audience cracked up.  That's the Onward t-shirt story.
This t-shirt was a gift to me by a store partner in Texas.  She told me that she received the shirt in 2008.  She said that she had the exciting experience of starting as a brand new barista in a brand new store.  In 2008, this was a promotion t-shirt that baristas would wear with a brand new store opening.  I'm forever thankful for the generous gift from that partner.  And I like the idea of having a warm and friendly t-shirt to wear for new store openings.  Some of my readers might remember that I recently visited a Starbucks in Lynnwood, Washington on the day it opened new.  The store partners wore white t-shirts with the new logo on them in celebration of their store opening.  I confess, I like this warm and inviting soft yellow t-shirt much better than a plain white t-shirt with a logo and no inviting words on it.  Maybe Starbucks will come up with something like this again some day.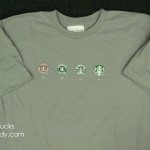 This simple gray t-shirt is available at the Starbucks retail merchandise store, located inside the Starbucks headquarters.  The store is open to the public, and I recommend reading about it in this previous blog post:  The Starbucks partner store is now open to the public.  I think the t-shirt is a nice concept.  I will say that my friend Molly looked at the shirt, and was a little irked that the logos aren't really centered on the shirt!  I didn't notice that until she pointed it out to me, but she's right that it seems a little off center.  I don't know if I picked a single shirt that is a little off, or whether they're all like that.  As is probably obvious, the t-shirts sold at the merchandise store in the headquarters are not intended to be worn in the store, but rather are for fun.  (At least, I think that's the case.)
Please weigh in in the comments! Thanks!
(Thank you Molly at Seattle Custom Framing for helping out with the photos.)
Related posts