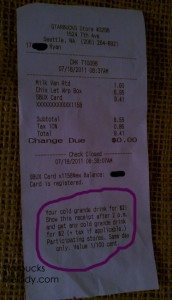 Starting July 18, 2011, the treat receipt has returned to Starbucks.  For those who don't know, this is a promotion where you purchase any item before 2:00 p.m., then hang on to your receipt, and return to any Starbucks after 2:00 p.m., and use your receipt to get any cold beverage (Grande size only) for $2.00.  You must go back on the same day that you bought your purchase before 2:00 p.m.
Starbucks has offered the treat receipt since 2008.  It was a promotion implemented to help people feeling the pinch of the downward economy yet still wanting to visit Starbucks often, and to entice people into a second trip into Starbucks in one single day.  The earliest 2008 treat receipt promotion is mentioned here.
The current treat receipt promotion started today and ends September 5, 2011, and is offered at participating Starbucks in the U.S. and Canada.
So how does everyone like this promotion? Are stores busier in the afternoon because of it? Do you use it?
Alright, I'm going to be honest here.  This promotion does very little to excite me.  It seems like most people are really glad when the treat receipt comes back, but I have difficulty being enthusiastic about.  I sometimes lose my morning receipt by afternoon.  I often visit Starbucks twice a day anyways.  I rarely order Frappuccinos – those customers see the largest savings with this promotion.  I really enjoy a "Venti" size Passion iced tea, but the treat receipt is not designed for Venti size.  The treat receipt doesn't fit my own personal habits at Starbucks.  I feel like I am alone in that, so probably in the comments everyone will love this treat receipt but it just doesn't do much for me.  So sorry Starbucks!  I still love you.  In any case, if I haven't been quite clear, I should say that even though the treat receipt is not my thing, I totally understand how and why many others love it.
Are you taking advantage of this year's treat receipt?  It is a good deal if you are the kind of person who grabs something small in the morning, and then you want to get an afternoon Frappuccino or Vivanno smoothie.
Related posts