Something new from Starbucks: Hot Chocolate in grocery stores
Melody, October 16, 2011
40
2 min

read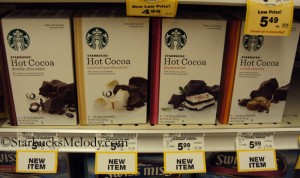 Starbucks has just recently launched four flavors of hot chocolate, available in grocery stores only.  I've never seen this packaging/ product available in the retail stores, so it appears to be a grocery store only item.  (Someone please correct me if I am wrong!) The four flavors are as follows:
Salted Caramel
Toasted Marshmallow
Peppermint
Double Chocolate
I definitely like hot chocolate during the colder fall and winter months, and this seems like a great seasonal idea!  I grabbed a box of the Toasted Marshmallow flavor to try at home.  I think the packaging is a little plain though!  I'm not sure I like seeing that much solid white on the box.  The image on the Peppermint Hot Chocolate flavor appears to be the Peppermint bark which is sometimes available as a seasonal treat at Starbucks.  I have a photo of it in this old December 2010 blog article.  Notice that it was not in the pastry case, but rather packaged in a green box.  I decided not to buy all four boxes at once, but I plan on eventually trying all the flavors, and Peppermint might be next.
Each package makes 8 ounces, and the instructions simply are to add hot milk, and stir.
So here's my review of the Toasted Marshmallow flavor:
First off, there are not enough marshmallows in it!  This is not going to be an "A" or 5-star review!  The flavor is very good, but I was disappointed to realize that there was like one or two marshmallows in my cup.  I used a big 16 ounce cup, so I only filled it about half full of hot milk.  Of course, this is super easy to make.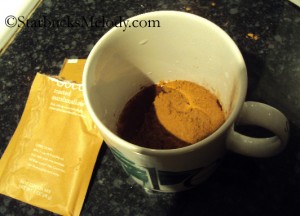 Here's what it looks like mixed.  I think it would have looked much more appealing if I had used the right size cup. Sorry about that!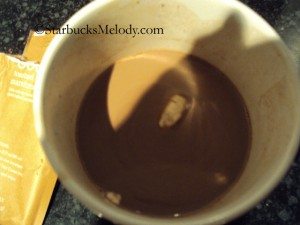 There you have it!  It was very chocolately and flavorful.  I would give 3 and a half stars out of five.  Not enough marshmallows!  But the chocolate flavor is very rich and delicious.  I can't wait to try some of the other flavors.  I have a feeling the peppermint is going to be the best!
Have you tried these? What do you think?  – This is an open thread.
Related posts