NEWS: Starbucks introducing Evolution Harvest: in Starbucks stores & Whole Foods.
Melody, August 27, 2013
36
3 min

read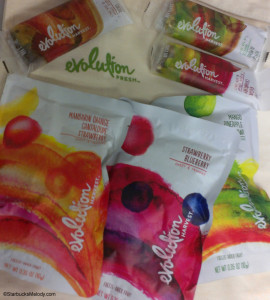 Starbucks is introducing Evolution Harvest snack bars and freeze-dried fruits:  Starting this month, you'll see the Evolution Harvest snacks appear in Whole Foods stores, and by the end of September, Evolution Harvest snacks should be available in Starbucks stores across the U.S.  The Evolution Harvest snacks represent growth of the Evolution Fresh juice brand which Starbucks purchased in November 2011.
I have tried some of the Evolution Harvest snack bars and Evolution Harvest freeze-dried fruit, so I thought I'd pass on a few pictures and share my thoughts.  I have to disclose that Starbucks sent me free samples early.  There are three flavors of the snack bars, and three flavors of the dried fruit.
Evolution Harvest freeze-dried fruit snacks:
Mango Pineapple Kiwi
Mandarin Orange Strawberry Cantaloupe
Strawberry Blueberry
One thing I noticed is that these are very low calorie.  A bag of these freeze-dried fruits is only 40 calories.  The Mandarin Orange – Strawberry – Cantaloupe combo was the sweetest to me.  The dried Mandarin Oranges definitely are packed full of sweetness – they could be a little too sweet for some!  By the way, I noticed when you open the bag, there is a ton of wonderful citrus aroma.  I really liked the dried cantaloupe – not too sweet at all, and delicious.
I liked the Strawberry Blueberry second best.  I already am a fan of blueberries, so those were quite a treat.  Though, as I was nibbling from the two bags, I kind of wished for a Cantaloupe – Blueberry combo bag!
The pineapple Kiwi one really is a bit tangy.   I expect Kiwi fruit to be very sweet, yet somehow the freeze-dried Kiwi fruit taste a little tart to me.
I am looking forward to hearing what others think of the freeze-dried fruit.
Evolution Harvest snack bars:
Pepita Almond Raisin Cranberry
Almond Cocoa
Roasted Soybean Pepita Almond
I only tried two of the three snack bars, mostly because I was starting to get pretty full.  Each snack bar is somewhere in the range of 180 to 200 calories.  The Almond Cocoa is pretty good, and not too sweet.  The chocolate flavor is almost an afterthought.  The two snack bars that I tried were very moist, and I wasn't really expecting that since sometimes it's possible to grab a granola bar and get something that tastes like bird seed mixed with wood stakes.  The Almond Cocoa snack bar has a rice meal mixed in, and so you get this very light flavor of almond, rice, and not too sweet cocoa.  It almost made me wish for marshmallows to be mixed in!
The Pepita Almond Raisin Cranberry was a huge surprise.  It didn't look very appealing.  But it tasted delicious.  I kept eating, and wanted to try more, only to realize I'd already eaten the whole thing.  It has a light salt flavor mixed in, and with the combination of the cranberries, Pepitas (pumpkin seeds), you kind of get a really nice sweet and salty combination.  I think if you give this one a try, you'll be surprised how good it is.  I included a pic of the Pepita Almond Raisin Cranberry bar in the photos below (don't judge a book by its cover).
As to the Evolution Fresh juices, Whole Foods gets two flavors exclusive to their grocery stores!  The two juices exclusive to Whole Foods are Organic Ruby Roots and Organic Sweet Burn.  (I haven't tried those.)
In October, Evolution Harvest trail mixes will be coming!
I know that I have a number of readers in Canada who might be wondering if Canada will be receiving the same items.  I don't know the answer to that question.  I'll try to circle back with an official Starbucks contact person and see if I can find out.
Enjoy the rest of the photos!
Related posts