Win a coupon for a free pint of @Starbucks ice cream (@SbuxMel)
Melody, October 24, 2010
43
4 min

read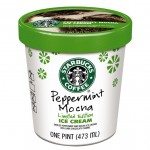 A new Starbucks ice cream is here! Starbucks has added a seasonal ice cream offering to their current line up of ice cream. It is Peppermint Mocha and it's described as "a creamy swirl of mocha and peppermint ice creams adorned with rich dark chocolaty chunks."  The inspiration for this ice cream comes from the Peppermint Mocha which gets a big spike in popularity every Winter season.  Starbucks says that this new seasonal flavor is available from September 2010 through March 2011.  And if you want to find out about all the Starbucks ice cream flavors, there is an official website:
The official line up of Starbucks ice creams includes: Caramel Macchiato, Mocha Frappuccino, Java Chip Frappuccino, Coffee, Vanilla Bean Frappuccino, Signature Hot Chocolate, and Strawberries & Crème Frappuccino.  Farmers who supply milk and cream for Starbucks ice cream pledge not to treat their cows with rBGH.
So which one is your favorite?  I have always liked the caramel macchiato flavor best.  I just really like caramel as an ice cream flavor.
Now there is a catch to this blog post. I started writing it nearly two weeks ago, and at that time I planned to review the new Peppermint Mocha ice cream.  My plan simply was this: Buy the ice cream. Take it home. Eat. Write.
This plan did not work out.  I drove around to a couple of different QFC grocery stores and couldn't find Peppermint Mocha. Then last night I went to a Safeway.  I couldn't find the ice cream.  Maybe other places other than Seattle have this ice cream. ? I don't know.  I didn't want to write a blog post about it without having tried it, and I will edit this post if I ever get to taste it, but here we are!
The wonderful people of Edelman reached out to me and shared some free ice cream coupons to promote the Peppermint Mocha ice cream.  I am doing my FTC duty disclosure or whatever to let you know that this blog post was inspired by the Starbucks Edelman people and the coupons came from them.
I'm going to go completely off topic for a moment and recommend some of my favorite archived blog posts here at StarbucksMelody.com:
And now you are wondering, "How do I win a coupon for a free pint of ice cream?"
Here are the rules for this thread:  I have a total of six free pint of ice cream coupons and I still have some left over Flavored Via Ready Brew too.  There will be a total of 11 winners, which is really a lot! Everyone will get either a free box of Via Ready Brew or a coupon for a free pint of ice cream.  If you win, please let me know which you prefer though I cannot promise you will get just what you want.  My email address is Sbux206@StarbucksMelody.com.
Rules:
Leave a comment today (Sunday October 24, 2010) in any StarbucksMelody.com thread – I even suggest some archived favorites above.
You must "tweet this" blog post! Click the "tweet this" icon on the bottom of this thread, or share on twitter by other means (bit.ly).
You must comment AND tweet THIS blog post.
You must have an address in the United States.
Whether or not I have 11 winners, the contest will close by noon (Pacific Standard Time) on Sunday October 24, 2010.
This StarbucksMelody.com give away ends when I have 11 winners or at noon on October 24, 2010, whichever comes first.
Enjoy!
And I really hope that those of you who go get the ice cream will come back here and report on how you like it!  Or just tell me in the comments if you've tried Starbucks ice cream and what you think!
Related posts