It's been a long while since I've talked about MyStarbucksIdea.com in any way whatsoever.  I noticed a few idea-threads that struck me as interesting, and decided to highlight them here.
Here we go:
1)
Daly City Starbucks Closing – Please Save Our Store – This idea thread is about a store in Daly City, California, which apparently is closing on January 26, 2012.  When I saw this thread, my interest was immediately piqued, as I wondered which Daly City Starbucks, and wondered if there was a story behind this.   I didn't realize that Starbucks is still closing stores, though I suppose if a store is not profitable, that could always happen.  Still, I wonder if any of my readers have more information about why this Starbucks is closing?  Does anyone here have more information on this?
Here's the full "idea" from MyStarbucksIdea.com:
2)
Bring Back Organic Shade Grown Mexico – Here's someone who wants the whole bean coffee Organic Shade Grown Mexico to come back.  I have to admit, I really liked that coffee too, and so I want to highlight this thread.  I don't think it's coming back, but I can still wish… Now is a good time to mention an old blog post about Shared Planet, which talks about the early history of Organic Shade Grown Mexico coffee.  Still, as a fan of this coffee, I want to put a spotlight on this thread.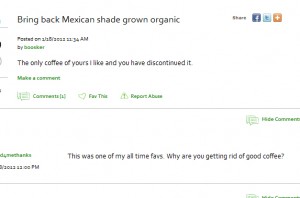 3)
Why buck the buck at the bux?  – You can't really tell what this thread is about by looking at the title.  It appears to be that a customer wanted to use a coupon for a $1.00 off of whole bean or Via and was told that they could not do so at the company-operated Starbucks.  Given the mix of answers in the thread, I find it a bit confusing.  As far as I know, the $1.00 off whole bean (or Via Ready Brew) coupons may be used at all "participating Starbucks," which generally does include all company-operated stores.
Here's the idea thread: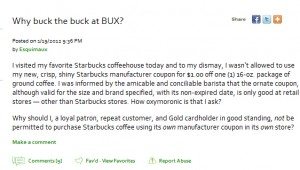 4) Graham Cracker Topping and Cheesecake Syrup – Here's a partner who wants a cheesecake syrup and graham cracker topping for beverages.  It doesn't really appeal to me, but someone would like it.  It's interesting enough to point out here – That's an original idea!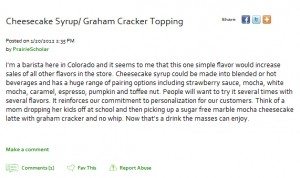 It's been eons since I've talked about MyStabucksIdea.com, so here is a chance to chat about the idea site.  Talk about anything MSI-related!
Related posts