Featured Clover Starbucks: Harvard Yard, Cambridge, Massachusetts
Melody, April 17, 2012
21
3 min

read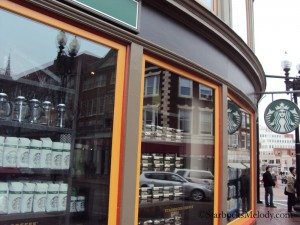 If you ever get the chance to visit the "Harvard Yard" Starbucks located in Cambridge, Massachusetts, you should.  It is one of the most fantastic stores that I've ever seen.  With two floors, abundant seating, two Clover areas, and scheduled coffee sampling, it almost doesn't get any better than this.  Because the space is so large (somewhere around 5,000 square feet, so I hear), it can accommodate local musicians, so you might stumble upon live music there too.
It was late morning on the March 28, 2012, and I dropped by for a visit.  I was blown away.  I met up with the store manager (Erika), the store's district manager, and a few other partners, and we did a short coffee tasting of Kona.  You can't go wrong with Kona.  We had a great time chitchatting as I learned a tremendous amount about the store (admittedly, I knew almost nothing about it before I arrived).  For about 25 years, this very large space was the Alpha Omega Jewelry Store, which apparently closed some time shortly after 2007, after an episode where the store's owner abruptly left the country.   The building itself was constructed in 1864!  Looking out the upstairs windows, one can easily see the "The Coop," which is Harvard's bookstore.
This store was constructed with the thought that many of the regulars will be students camped out for extended periods of studying.  There are about 150 power outlets throughout this store, which is about the same number of seats!  This Starbucks has very long hours –  it opens at 5:00 a.m. on weekdays, and 6:00 a.m., on weekends; and closes at 1:00 a.m.  One can walk to the Harvard University campus easily from the store, and there is a T-station stop almost adjacent too.  (Take the Red Line to the Harvard Square stop.)
When Starbucks remodeled, the flooring for the upstairs floors came from re-purposed barn oak, and the edging on the espresso bar woodwork is locally salvaged fallen wood.  I was surprised to learn that the store uses the "elevated dress" code, found at a small number of Starbucks such as Olive Way Starbucks. According to Erika, the store has a regular schedule of sampling the Reserve coffees three times a day.  I thought it interesting that the upstairs seating area serves all their beverages in for-here ware.
Also interesting, one can purchase a Clover-brewed cup of coffee upstairs, and a pastry (the upstairs selection of food is very limited) and pay for it upstairs.  In other words, there are registers both upstairs and downstairs, with the upstairs one dedicated nearly entirely to the Clover brewer.  There is no espresso machine upstairs.
A couple of things I found interesting were the logo interior signs downstairs at the espresso bar area, and upstairs at the newspaper rack.  It is amazing to me how beautiful the logo looks when carved in wood.  This store is just so visually interesting.  As you walk upstairs, you can sort of look downstairs directly onto the Clover area.  It makes for an interesting view: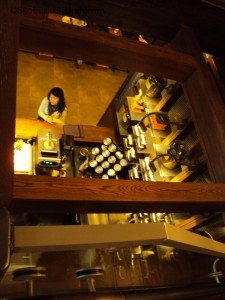 And here's the one-of-a-kind newspaper rack with the logo on it: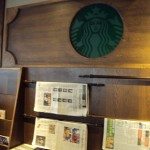 Since I arrived at a late morning hour, the store was packed with customers, so I actually did not take very many photos.  A number of the photos for this article came from partners who generously shared a few from their own collection.  Thank you Harvard Yard partners for hosting my visit, and making it absolutely wonderful!  As is likely obvious, I thoroughly enjoyed this trip to Boston, and it was a bit hard to come home.
You can see it is a visually stunning store.  This store first opened May 20, 2011.   Here is the address for when you go visit!
Starbucks store #7102
1384 Massachusetts Avenue
Cambridge, MA 02138
(617) 354 372
I hope you get a chance to see this magnificent store.  Let me know what you think!
Related posts