The Extraordinary Downtown Disney Starbucks!
Melody, May 29, 2014
23
4 min

read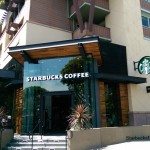 Today (May 28, 2014) I had the chance to visit the Downtown Disney Starbucks. What an incredible store! I had a lot of fun and loved it. Before I talk about some of the unique things about this store, I want to clear up a number of frequently asked questions about the Downtown Disney Starbucks:
Is the Downtown Disney Starbucks licensed? This is a company-operated Starbucks. Everyone working there is a Starbucks partner.
Do I need to buy a pass to Disneyland (or any Disney theme park) to visit this Starbucks? No. The Downtown Disney district is an area of shops, open to the public, wedged between the two theme parks (California Adventure Park and Disneyland).
Can I get Reserve coffee and/or Clover-brewed coffee at the Downtown Disney store? Yes. It's a Clover – Reserve Starbucks.
How is this store different from the Starbucks inside the California Adventure Park? The Downtown Disney store is company-operated and has all standard Starbucks fare. The California Adventure Park Starbucks is licensed and has both Starbucks food and Disney-café food offerings, like soup, sandwiches and more.
Is there a Disneyland – Starbucks You Are Here Mug or other collectible mug? No. The Downtown Disney Starbucks store offers the Orange County and the California You Are Here coffee mugs.
I hope that clears up a couple of common questions – I've already seen these kinds of questions pop up on Facebook.
The Downtown Disney opened new on March 10, 2014. This was a planned visit so I was able to have a Starbucks partner host my visit and answer a number of my questions. I learned an enormous amount about this store! In the short time it's been open, it has already started to rival the busy New York Times Square Starbucks as one of the busiest stores in the United States! This store has four store managers (one "general" manager and three actual store managers) who split up there areas of responsibilities. This store has four registers, two Clover brewers, four Mastrena espresso machines, three cold beverage stations and two separate warming stations. The store is run with a crew totaling about 110 partners. I thought those numbers are staggering!
This store has so many unique things about it. It's worth visiting. The store design is gorgeous. High above the register area, you will find a map of the world, with coffee growing regions illuminated. There is beautiful chalk art throughout the store. The Reserve – Clover area is offset from the espresso machines to highlight the uniqueness to Starbucks Reserve coffees. Above the Clover brewing area is a video screen which shows images of coffee farms and other coffee growing related content.
There is an interactive touch screen in the store. You can draw on it and then erase what you draw. I thought of it as a high tech Etch-a-Sketch but that probably dates me! The partner I was with says that she sees kids playing tic tac toe on it all the time, and happily drawing on it, as parents wait in line for their beverage. The picture featured here shows the touch screen moments after someone wrote the word "Hello" on it. When nobody is drawing on the touch screen, it creates chalk images of the area in front of it. You almost have to see it to believe it. There's a camera facing the seating area directly in front of the touch screen, and when nobody is drawing on it, you may look up and find yourself as a chalk image reflected in it.
Despite how busy the store stays, my drink came up pretty fast. I thought it looks liked the store partners moved pretty efficiently. The baristas in this Starbucks wear the "elevated" dress code, which is the same dress code found in all the Evenings Starbucks. My understanding is that this is the only non-Evenings Starbucks with an elevated dress code. This means that partners must wear all black, men must have a tie, and everything must look sharp at all times.
One thing I discovered, which was actually a disappointment to me, was that there is no way to leave a tip. Apparently under Disney contract rules, tips are forbidden. I like leaving a tip. I asked a baristas what happens if a customer absolutely insists on leaving a cash tip, and I learned that all tips collected get donated to the Starbucks CUP Fund.
Now that I've told you all about this store, check out how beautiful it is. This is a must-visit Starbucks. The only thing it needs that it doesn't have is some sort of souvenir exclusive to the Disney – Starbucks partnership, like a coffee mug, tumbler, or Starbucks card.
Enjoy!
Related posts