There were protesters in downtown Seattle today.  Most of the chaos happened while I as at work, but as I walked home, here is what I saw: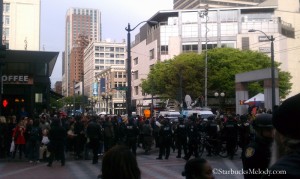 There were still plenty of protesters and police, and it seemed like most of the action was along Fourth Avenue between Pike and Pine.  I took the above photo at about 5:45 p.m., at the intersection of Fourth and Pine Street.  I tweeted the above photo and so there is a slightly larger version of the same photo here.  Needless to say, the Westlake Center Starbucks which sits right at that corner was closed for business.
Just a little further up Pine, at 6th Avenue, Seattle had their police officers on horses out.  Not a very common sight at all: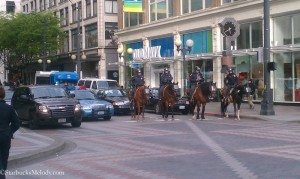 There was tons of news of violence today.  I happened to miss most of it.  I arrived at work long before it started, and walked home after most of it ended.  I read in the news that protesters smashed out windows of businesses such as Nike, Wells Fargo, U.S. Bank, American Apparel and more.  There's a Seattle Times article about this here.  Seattle is mentioned in this msnbc.com news article about May Day protests.
Along Sixth Street, I discovered that one of my favorite Starbucks had a smashed out window.  Technically that Starbucks has a Pine Street address because it is connected to Pacific Place Mall, but its entrance is on Sixth.
By the way, the above Starbucks is the same one that I featured in this blog post here:  Featured Clover Store: Pacific Place Starbucks.  I really like that store.  The partners there have always been super friendly and nice, and the manager absolutely cares about the experience for both his partners and the customers.
I realize this is an usual blog post for me.  As I walked home, I was so struck by these images, that had to put my pencil to paper, so to speak.  Perhaps I am just of the wrong generation, but I don't understand many modern-era protests, and especially have zero tolerance for those that turn violent.  The way I see it is this:  You (and me too) may be part of the 99%, but really, 99% of our problems are first world problems.
Breaking windows won't make the world better.
Related posts