May 1st marks the introduction of the newest Frappuccino into the Starbucks Frappuccino lineup:  It is the Mocha Cookie Crumble Frappuccino.  Has anyone tried it?  And the famous Frappuccino happy hour comes back soon too.  From May 4, 2012 through May 13, 2012 from 3:00 p.m. to 5:00 p.m., customers can order half-price Frappuccinos.
I haven't tried the Mocha Cookie Crumble Frappuccino so I'm not certain if I will like it.  It looks quite sweet, and I'm not a huge Frappuccino drinker.  (Though I remember the days of the 'malt' Frappuccino and had a weakness for those.)
Just this past Sunday (4/29/12), I dropped by the Starbucks located at First and Walker, and noticed a fantastic huge billboard near the store.  I love big Starbucks billboards and so this did put a smile on my face: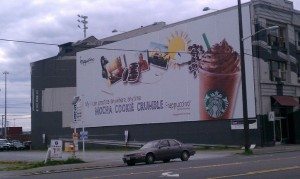 There were three baristas working, two of whom already knew me.  One of them said that she'd been experimenting with the Mocha Cookie Crumble ingredients, and came up with this variation that she really liked: I am terrible at deciphering cup markings but here's what it was:  Grande, x CCRumbles, WH, 1H, 2 sc protein, 3 CB.  Hopefully that makes some sense to some of my readers.  I did think it was a nice variation.  The crumbles were blended into the drink, and the whip-cream was still the wonderful normal whip-cream that Starbucks is famous for.  That was entirely her creation.  Give it a try!  It wasn't overly sweet, but nice and chocolatey.
Launching tomorrow, there are domed cup lids and replacement green straws in the stores for your re-usable cold cups.  It doesn't look like the "tall" size re-usable cold cups are being offered again.  There was one last holiday season, but I haven't seen one since then.  So glad I got mine then!  I've seen the domed lids and replacement straws but didn't get a photo of them.  I'll go back later and update this blog article with a photo of that merchandise.
There is more:  The official Starbucks @Frappuccino profile on Twitter is encouraging you to take a photograph of your Frappuccino and tweet it with the hashtag #FrappuccinoHappyHour.  There is a contest where winners can win a $25 Starbucks gift card.  Details are on the official Frappuccino Community page.
Now is a perfect time to remind my readers that customers MAY take photos inside a Starbucks.  If you have a problem, contact customer service.  I know that many partners do not know that the photo policy went through major changes in 2009.  It appears that the Frappuccino twitter photo contest is only open to residents of the U.S. or Canada.
Also, in my twitter stream, I had partners tell me that the UK and Ireland market does not launch the Mocha Cookie Frappuccino until May 18, 2012.   Sorry that my friends in the UK and Ireland have to wait a bit longer for it.
So how does everyone like the new Frappuccino?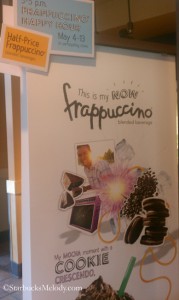 Related posts