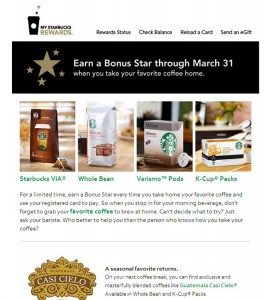 You are earning bonus My Starbucks Rewards stars right now for buying coffee for home at company-operated Starbucks stores!
A reader alerted to me the fact that her My Starbucks Rewards stars totals this month included extra "bonus" stars for at-home coffee purchases.  I made some inquiries and learned that now through March 31, 2013, you earn a bonus star when buying whole bean coffee, Verismo pods, Via Ready Brew, or K-Cup packs at Starbucks!  I realized that this was one promo that could've easily been missed by both customers and partners alike, so I wanted to pass along the bonus stars news.   Besides, it is a long bonus stars promotion, so there is still plenty of time to take advantage of it.
There is one more promotion that I want to mention:  I have not confirmed this completely, but I have heard that if you buy a pound of whole bean coffee at company-operated Starbucks stores February 21 through February 24, you will receive a five dollar gift Starbucks card.  That seems like a great deal!  (The $5 gift card promotion is only available for one-pound coffee purchases.  Buying Via Ready Brew, Verismo Pods, and K-Cups doesn't qualify for the $5 gift card, as far as I know.)
That is it for the whole bean coffee promotions at Starbucks!  Enjoy! Hope you get a chance to take advantage of one or both of these whole bean promotions.
Related posts