Isla Flores Indonesia – New Starbucks Reserve Coffee
Melody, February 22, 2013
11
2 min

read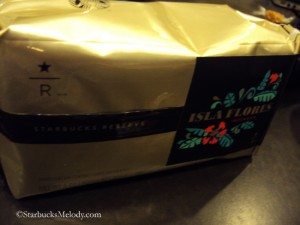 The new Starbucks Reserve coffee called Isla Flores Indonesia launched in Starbucks on February 19th.  It's a bold, wash-processed, Indonesian coffee, grown at an elevation of about 3,950 feet to 5,000 feet.  The flavor notes are maple, spices, and butterscotch.
Today (February 16, 2013), I went to a tasting for this new coffee, held at the Seventh and Pike Starbucks in downtown Seattle.  Coffee master Jay walked us through the seminar, and paired Isla Flores Indonesia with some "Butterscotch Chews" from See's Candy.  I was still getting over a head cold, and had some difficult smelling much of anything.  One person told me that he smelled cinnamon in the aroma.  By the way, the coffee for tonight's event was Clover brewed.
I definitely liked this new coffee.  I thought it was fairly dark roast for a single origin Reserve offering, but it seemed to work well at that roast profile.  There were indeed caramelly, butterscotch flavors to the coffee.  If I could do a second tasting of this coffee, I would love to see how it would work as a shot of espresso.  My gut says that the nice caramelization of the beans, and natural flavors would make it fantastic as an espresso shot.
It was pretty fun that Jay broke out the store's old "aroma kit" to help with the aromas.  Most everyone there agreed that the coffee also had a certain earthiness to it, both in aroma and flavor, but I was having a hard time detecting that.
Thank you Jay for putting together this event!  If you have tried the Isla Flores Indonesia coffee, I would love to hear how you liked it.
Related posts