Goodbye Puget Sound Plaza Starbucks (Starbucks store #103).
Melody, February 19, 2013
9
2 min

read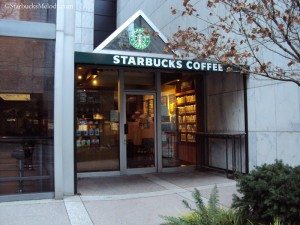 Goodbye Puget Sound Plaza Starbucks.  It's always a little sad to me when Starbucks closes one of their stores.  It's been a long while since Starbucks closed a downtown Seattle store.  The last one was the Smith Tower Starbucks.
First off, I want to say that I am really glad that Starbucks found a place for every single partner.  Nobody is losing their positions because of this store closure.  Lori, the store manager of the Puget Sound Plaza Starbucks, will be taking over the Fifth and Columbia Starbucks location. Secretly, I am little happy she is going to that store – I do visit that store  and it will be nice to see her there.
The Puget Sound Plaza Starbucks first opened on June 1, 1987.  Actually, given that it's numbered as a 100-series store, that would suggest it was opened as an Il Giornale during that short time before Howard Schultz bought Starbucks.  I mentioned a little bit of this very old Starbucks history in my old article on the Columbia Tower Starbucks (Store #101).  It's pretty likely that it opened as Il Giornale on June 1, 1987, and then converted to a Starbucks on or about August 15, 1987.  That's a pretty interesting store history!
The store will close permanently on February 22, 2013.  It closes on a high note – with a whole team of great partners moving to other downtown Seattle stores.  And, customers only have to walk across the street to Fourth and Union Starbucks to get to a close by Starbucks store.
If you're in the Seattle area, I hope you'll stop by and wish all the partners goodbye to their store, and welcome them to their new stores!
Related posts