Sneak peek: New Starbucks Whole Bean Packaging Coming Soon
Melody, June 12, 2013
29
1 min

read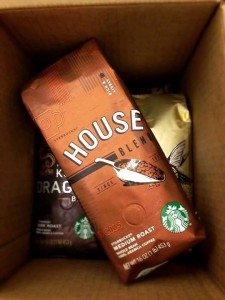 Starbucks has revamped all their whole bean packaging.  The new Starbucks whole bean packaging arrives in stores in the next couple of weeks.  Gone will be the dull, current packaging.  Traditionally, the whole bean coffee packaging (and merchandise generally) told stories of the bean or had a strong image associated with it.  I >still< think of Italian Roast as the Leaning Tower of Pisa, as that was the image associated with in the early 1990s.  House Blend used to be an small plane pilot, like as if your coffee journey was just starting.  You can get a sense of the beautiful images Starbucks coffee design of the 1990s by clicking through this old blog post here.  At one time, Starbucks sold coffee in simple bags with a coffee stamp affixed to the front of it.  It hasn't been that way for years, but I remember that as well.
The new packaging is a step in the right direction!  From just this "sneak peek" image, I like it!  About two years ago, Starbucks moved in the direction of the current packaging, which I always felt was too dull.
Don't forget that Starbucks promotion "Coffee Card" starts this month, meaning if you buy two pounds of whole bean coffee, you can receive a third one free – you have to use your "Coffee Card" though.
I would love to know what you think of the new look!
Related posts