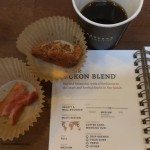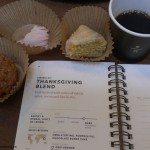 People always ask me why I like Starbucks.  There really isn't one single short, sound bite type answer.  There is one piece of the experience that I particularly enjoy, and that is the "shared experience" nature to Starbucks.  There are shared experiences.  Every time there is coffee event in Seattle, it's not just one event, but is the same kind of experience that is being shared all over the United States, and indeed globally.  There are partners everywhere who are in their "last ten feet" of their coffee master journey.
When I talk about "shared experiences," I don't mean just the experience of going to  Starbucks with a friend, and ordering a hand crafted beverage together.  I am referring to something a little different.  When you enjoy a coffee tasting at Starbucks, you're part of a larger experience in the sense that all over the globe.  Of course, it is not the only kind of shared experience.  For some people, that moment that they have that first Starbucks red cup in their hands is also a "shared experience."  All over, there are customers (and partners) having a small moment of delight in the first red cup of the season.
I felt privileged to join a shift supervisor (Dave) at the Pacific Place Starbucks in a coffee event that was part of his journey to becoming a certified coffee master.  The moments I saw were shared experiences.  It was so awesome.  Dave focused on Yukon Blend and Thanksgiving Blend.  One of my favorite pairings was simply the La Boulange oatmeal cookie with the Yukon Blend.  The spices in the oatmeal cookie really brought the Yukon Blend to life.  By the way, I know that Yukon Blend is classified as a "medium" coffee but it feels very bold to me.  Another unique thing that Dave did was to pair bacon with Yukon Blend.  Others in the group really liked it, but I didn't quite "get" that pairing.  I did think the bacon accented a little more of the smokiness to Yukon Blend.
Take a look at these photos.  Look at the great coffee tasting experiences being had!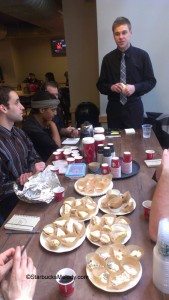 Dave also cooked an actual turkey to pair with the Thanksgiving Blend!  It was fantastic.  I thought that this year's Thanksgiving Blend has a little more cocoa – lemony prominence than last year's coffee.
Congrats to Dave on an amazing coffee tasting event.  Great experiences.
Also within the last week I received an email from a Tampa, Florida partner who shared photos of a coffee seminar they recently did: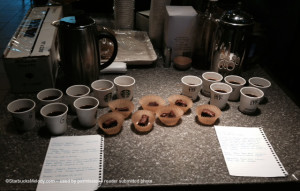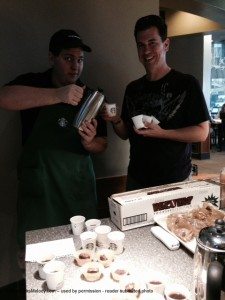 Whether you're in Seattle, or Tampa, there are coffee tastings going on everywhere. I just think that's very cool.
Related posts