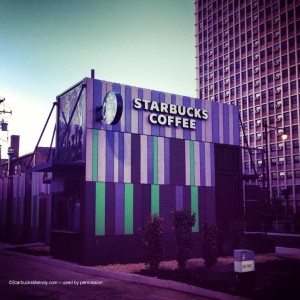 Starbucks has just opened a "Shipping Container" store in Chicago!
It's a beautiful store, opened new on Tuesday, October 15, 2013.  For those who don't know, there are a series of Starbucks in various cities which are drive-thru only stores, made from used shipping containers.  It's part of Starbucks' strategy to develop store concepts from re-purposed materials.  The first shipping container Starbucks opened in December 2011, just outside of Seattle, Washington.
There has been a ton of news about this new store, located at the corner of Broadway and Devon, at 6350 North Broadway.  The interior is about 700 square feet, and one news source cites that it is the sixth Starbucks shipping container store.  Can you name all of them?  At the end of this article, I list the six possible locations.  These stores are a LEED certified store design.
By the way, I particularly like this article here which introduces you to the store's manager!
A reader of this blog submitted some fantastic photos of this new store.  This is really beautiful.  I love the cut-out patterned artwork on the top level of the shipping container.  It almost has a haunting feel.  Take a look: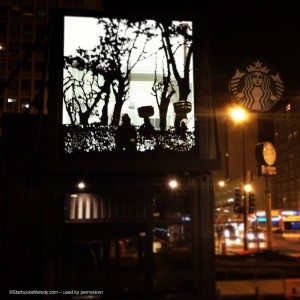 And in case you're curious who was the very first customer on October 15th, I am sure we have the answer here. 😉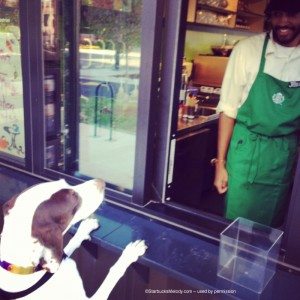 There is an area of patio seating, as well as the drive-thru.  Hope you enjoy the rest of the photos!  Thank you again to the reader who submitted these to the blog.  If you have had the chance to drop by this new store, I would love to hear about it.  As always, I love reading your thoughts, comments, and discussions (and my apologies that I can't reply to every single comment.)
Here's this store on the Starbucks store locator.
As to naming all six locations with shipping container Starbucks, here's my guess:
Seattle (actually Tukwila) – The first one which opened in December 2011.
Overland Park, Kansas City – This has been mentioned as the site of a shipping container Starbucks.  If you have photos of this store, please send them to me!  It would seem that this store got very little media attention.
A huge thank you to the reader who emailed me with these gorgeous photos!
Edit on October 18, 2013:
To clear up confusion, I spoke with an official Starbucks spokesperson about how many shipping container stores there are.  This Chicago store is definitely the fifth store to open – not the sixth.  Here's what she said, "Currently, there are five shipping container locations open in Seattle, Portland, Salt lake City, Denver and our most recent location in Chicago. You've probably read news about a sixth location in Overland Park, KS. This location is still in the works and we are very excited to bring the shipping container drive thru store to  the community."
Related posts