The Evolution Fresh Veggie Burger: A small test.
Melody, October 16, 2013
14
3 min

read
Evolution Fresh (a wholly owned and operated subsidiary of Starbucks) is testing a veggie cheeseburger.  This item is available only at two of the Evolution Fresh stores.  As a reminder, Starbucks operates four juice bars under the Evolution Fresh brand: two are in Seattle; one is in Bellevue, Washington; and one is in San Francisco. The two stores with the veggie burger are the one in Bellevue, and the one in Seattle's University Village shopping area.
This is truly a small test, and will be over in the next few weeks, so I am told.  However, if you can easily get to one of the two Evolution Fresh stores testing the veggie burger, it's a fun thing to try.  And, it's such a unique idea, I thought it was worth writing about.
I saw this sign just outside the University Village Evolution Fresh, and was enticed to order the veggie burger: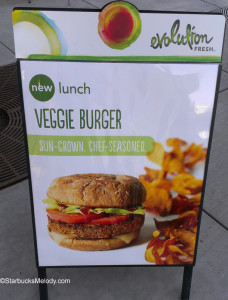 The price tag for the burger (which comes with chips) was around $9.00, in case you are curious.  It comes with a the seasoned veggie burger patty, bun, lettuce, tomato, ketchup, and a slice of cheese.  I think you can get mustard on it, but I asked for no mustard.  (I'm not 100% sure about the mustard option).  One thing I thought was remarkable was that this burger is simply prepared by cooking it (with the bun) in the Starbucks TurboChef oven.  The "TurboChef" is a special oven found in most every Starbucks (and all four Evolution Fresh stores) which heats and cooks things amazingly quickly. It's not a microwave.
Here's what my burger looked like: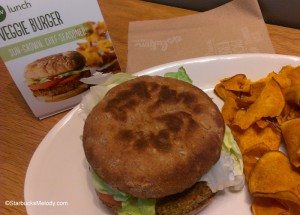 The chips on the side are Terra brand sweet potato chips. They're good but come completely unsalted.  I felt like I wanted salt!  The burger itself was good.  I liked the seasoning.  One thing though, the actual patty seemed to crumble and fall apart too easily.  It was difficult to pick up and eat with my hands without making a mess.  A fork is recommended!
To be clear, this burger is just a test.  (I know I am repeating myself, but sometimes I get emails from people who run to Starbucks to find things I write about, only to be disappointed that they can't find the "new veggie burger" at their local Starbucks.)
While I don't think you'll ever see veggie burgers at Starbucks, there is one thing about this test that is incredibly interesting to me.  It demonstrates that food-expertise that Starbucks has.  I think that if Starbucks wanted to, they could easily offer a veggie burger.  It cooked quickly in the TurboChef, and then it appeared that the lettuce was pre-washed, ready to go, and everything can be assembled quickly.  It didn't seem like any more work than baristas already do to assemble some of the Evenings Starbucks food options.  I don't normally write about this minutia of Starbucks testing, but I find this fascinating because it demonstrates that Starbucks can do things that you might not expect at all!
Now it's your turn to weigh in.
Related posts