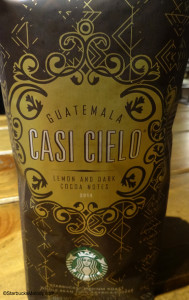 Casi Cielo whole bean coffee returns to Starbucks on January 7, 2014.  It will be available in whole bean coffee bean form, the K-Cup format, and new this year, the Verismo pod format.
The development of the coffee began in 2003, when a fine restaurant in Seattle approached Starbucks to create a coffee for their restaurant.  There is an official Starbucks blog post on Casi Cielo here.  I think the coffee was introduced to Canlis restaurant in October 2003, and the more I research it online, the more I'm unsure if it launched in stores in 2003 or 2004, or simultaneously in stores in 2003.  This may be the 11th year of Casi Cielo available in Starbucks stores.
This year's packaging is indeed elegant!  Regardless of whether this is the 10th or 11th year of this coffee, the packaging is pretty, and the coffee itself is wonderful.
I've already tried it from the Clover and thoroughly enjoyed it.  I got a little bit of the lemony aroma, and the flavor had a lot of soft cocoa notes with a citrus finish.  I think this year's Casi Cielo will be very popular.  It's known to be a versatile coffee: great as a shot of espresso, made in a press, pour over, or on the Clover.
I look forward to this coffee each year.  I fell in love with Casi Cielo in January 2008 – it was the first cup of coffee that I ordered from the Clover, at the 6th and Union Starbucks location. Hope you like this year's Casi Cielo too.
Related posts