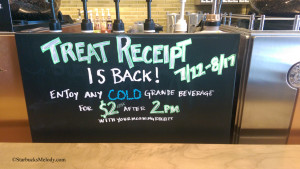 The annual Starbucks treat receipt returns, starting today. The way the treat receipt works is that you go to Starbucks before noon, hang on to your morning receipt, and then return the same afternoon and get a Grande-size cold/ iced beverage for $2.00.
The "Treat Receipt" was first introduced as a summer promotion, August 2008 in response to MyStarbucksIdea.com feedback that customers wanted more value. It's returned to Starbucks every summer since then.
Over the years, I've noticed that I get asked many of the same questions about the treat receipt, so I'll try to answer some of the most frequently asked questions here:
Do you really have to hang onto your receipt from that morning to take advantage of the treat receipt? Yes, you must present a receipt from earlier in the day.
Does it matter what you purchase in the morning? No, any purchase works.
Do I have to return to the exact same store where I got the morning treat receipt? You can go to any participating Starbucks in the afternoon. It doesn't have to be the same one as your morning Starbucks visit.
Do all stores participate? At a minimum, all company-operated Starbucks locations will be participating. It's possible that not all licensed locations will be participating in this treat receipt promotion.
Is there a treat receipt in Canada? Yes. However, I believe the Starbucks Canada treat receipt promotion dates are July 14th through August 10th.
Can I get a Frappuccino with my treat receipt? Sure! Any cold beverage. Grande Iced Clover beverages, as well as the Starbucks smoothies, are also included.
There's one more promotion that I want to tell you about: 20% off packaged coffee in Starbucks stores, July 24th through July 30th.  This promotion is only open to MyStarbucksRewards members. You don't have to be any particular level of MyStarbucksRewards: Welcome, Green, and Gold Levels all can participate. You must pay for your purchase using a Starbucks card (or registered Teavana or Evolution Fresh cards, which are also Starbucks cards). This promo limits you to only two Starbucks packaged coffee items during the promotional period, and no more than one item per transaction. In other words, if a customer buy 3 pounds of Verona in one transaction, only one item would be 20% off. If a customer purchases three pounds of Verona at three different times, only two items will be 20% off, and all other packaged coffee items will be full price. Customers can use this perk for things like Verismo pods, whole bean coffees, K-Cups, and Starbucks Via Ready Brew coffee.
Related posts