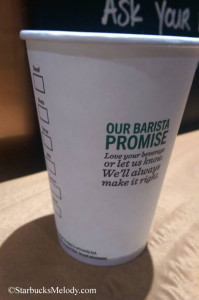 Be on the look out for new Starbucks white paper cups! The new version of the iconic white Starbucks hot-beverage cup will include the Barista Promise on it. The cups say on them, "Love your beverage or let us know. We'll always make it right." I think it's a nice addition to the cups! What a great way to affirm the Barista Promise – put it right on the cups! These new cups will slowly be phased into stores around you. As your local store runs out of the classic white cups, they'll be replenished with the new Barista Promise white cups.
I think Starbucks has placed a refreshed emphasis on your drink being perfect. I like that it's backed up with in-store signage and on the cups both!
If you haven't yet, you'll soon see these cups in stores everywhere.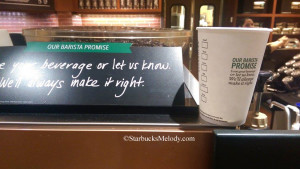 Related posts